Arizer makes some of the best vaporizers in the world, nearly perfect except for one thing – portability. But then enters Arizer ArGo, and the portability issue is gone.
Arizer ArGo is currently one of the best portable dry herb vaporizers on the market and it's an investment that will pay off tremendously.
But is it a product for everyone? Maybe not.
In this review, I will cover its strong points as well as its downsides so that you get the best possible overview of what you can expect from this vaporizer, and whether you should buy it or not.
Let's get started!
Company overview
Arizer was founded in 2005, becoming a true pioneer in the cannabis industry.
Today, the company is well-known for the astonishing quality of their dry herb vaporizers. These products got numerous awards over the years and they set the standard for future vaporizers.
Arizer always uses cutting-edge technology to develop their products and they take quality very seriously. They use the latest ISO quality standards and every product is FCC, ROHS, and CE certified.
Technical specifications
| | |
| --- | --- |
| Heating type: | Convection |
| Heat-up time: | 60 seconds |
| Temperature range: | 122°F – 428°F (50°C – 220°C) |
| Chamber capacity: | 0.15 g |
| Charging time: | 3.5 hours |
| Battery type: | Li-Ion |
| Battery capacity: | 3000 mAh |
| Uptime: | 90 minutes |
| Voltage: | 110V |
| Height: | 3.27" (8.3 cm) |
| Width: | 2.05" (5.2 cm) |
| Weight: | 97 g |
| Price: | Get it for $269.99 at Bloomgroove |
Unboxing Arizer ArGo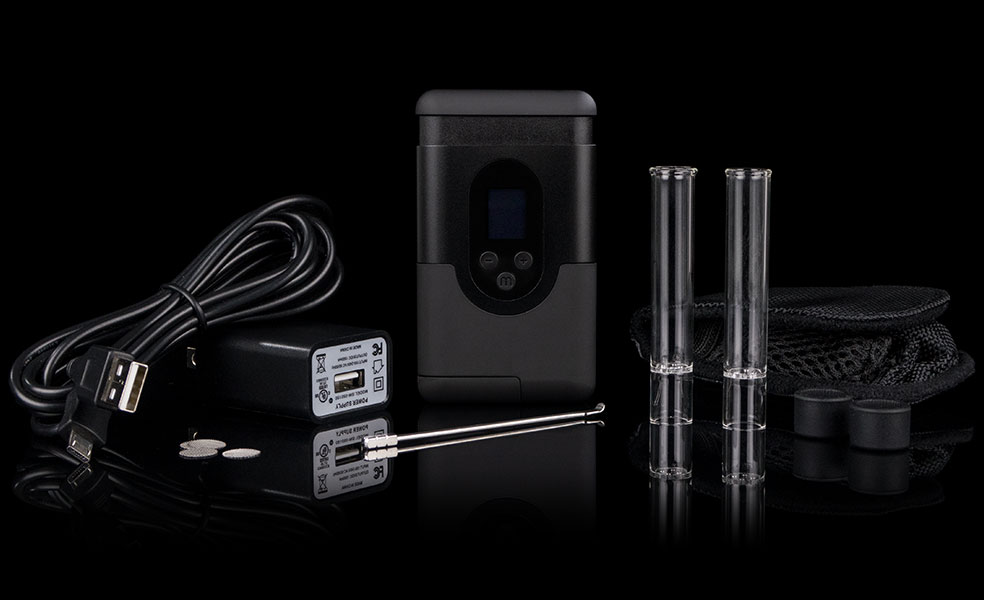 Arizer ArGo comes prepacked with plenty of accessories that you can use to improve your overall experience. It also has room for additional extras that can improve the experience even further.
Here's what you will find in the box:
Two glass mouthpieces
Two silicone stem caps
One rechargeable li-ion battery
Power adapter
USB charger
One belt loop case
Four filter screens
Packing tool
User's manual
Arizer ArGo itself
Here we have everything we need for a truly unforgettable vaping session.
Design and features
Arizer ArGo is small and very convenient. It fits comfortably in your hand and slips easily into just about any pocket or backpack. If you wanted a truly portable vaporizer that you can carry anywhere you go, you will certainly be satisfied with what ArGo has to offer.
ArGo has all the recognizable trademarks of every other vaping device from Arizer. If you've ever used any of their products before, you will instantly know how to use this vaporizer as well.
From a visual standpoint, Arizer ArGo is not too attractive, but decent enough. Nonetheless, the design is functional and serves its purpose perfectly. That's what matters most.
Heating
Arizer ArGo uses a hybrid heating system.
The glass stem addition ensures that there is no temperature fluctuation during the vaping session at all. It also ensures that the temperature of your herbs is consistent. What you get in the end is potent vapor with deep and profound effects.
Airflow
Arizer ArGo has the same airflow as its predecessors – it's wide, open, and overall, pretty smooth. This ensures that your vaping sessions can last a long time without losing potency.
Moreover, it also enables easy and comfortable pulls that people who are perfectionists will surely appreciate.
Display
Arizer ArGo comes with a retro display that doesn't look too attractive but is very functional. It shows all important information (like battery life and temperature level), and it gives you full temperature control as well.
You won't need to use an external app to make the display work. You can do everything with a single button!
The display allows you to tweak a number of different things including screen brightness, sound effects (when the temperature reaches a certain level, for example), and it even offers its own shut-off timer. Quite neat.
Temperature control
I've mentioned temperature control briefly, but in this section I will explain how it works in the context of this particular product.
Arizer ArGo allows you to manually control the temperature levels as you like.
The temperature range is 122°-428° F (50°C – 220°C) which is more than decent for a device such as this one.
You can choose your optimal heating with a single button (+ or – button, depending on where you want to go with your temperature) that is located on the display itself. The display will show the temperature in Celsius by default, but you can switch to Fahrenheit if you want to.
You'll also be able to see the numbers going up in real-time as the device heats up.
Vapor quality
All Arizer vaping units provide deep, outstanding, and long-lasting flavor. Arizer ArGo is no exception.
You won't notice any reduction in flavor quality even after you've been vaping for hours on end. You won't need to worry about the temperature either, as even on the highest settings you'll be able to enjoy that wonderful taste without burning your throat.
Now, some people prefer big clouds over small ones, and if that's the case with you as well, I'll have to inform you that (sadly) Arizer ArGo doesn't fit that criterion. You may want to try Arizer V Tower instead, or some other vaporizer that specializes in huge clouds.
On the other hand, if the aroma is your main concern, you'll absolutely enjoy every bit of Arizer ArGo.
Ease of use
Just like its predecessors, Arizer ArGo is very easy to use.
Before you start vaping, place your herbs into one of the two glass stems and load them into the vaporizer. Next, turn on the device by holding the main button and the + button at the same time. After a couple of seconds, you'll see a countdown timer. Keep holding both buttons for three more seconds and the device will finally be ready for vaping.
Now all you need to do is choose your optimal temperature with the + and – buttons, wait for the unit to heat up, and you can start pulling!
For more convenient future sessions, you can use one of the two silicone stem caps that came with the vaporizer.
Additional accessories
If you're not completely happy with the default accessories, the fact that Arizer ArGo has room for plenty of additional extras should make up for it.
The most convenient add-on that you can get is the water pipe. This addition will make your vaping experience even better and it's certainly a worthwhile purchase.
You can get as many additional power adapters, aroma, and tubes as you like. You can even get third-party accessories. Sure, you don't need any of them to enjoy this vaporizer, but they may improve your experience.
Cleaning and maintenance
If there's one thing that most of us hate, that's cleaning and maintaining our vaping devices. Luckily, Arizer ArGo doesn't require a lot of maintenance, and the cleaning is very easy to do.
You don't need to clean the unit too frequently, but ideally, you should do minimal maintenance a couple of times per week. You don't need anything special to do this – a regular cotton swab, isopropyl alcohol, and some water will do the job perfectly.
Who should buy Arizer ArGo?
Anyone interested in an easy-to-use vaporizer with extraordinary functionality can look forward to using Arizer ArGo. The same applies to all people who favor vapor quality above everything else.
It's a bit pricey, that's for sure, but it's an investment that will certainly pay off.
Who shouldn't buy Arizer ArGo?
Arizer ArGo has no serious downsides, but there are perhaps two cons that we could mention.
First of all, the price. ArizerGo is considered a mid-range vaporizer in terms of its price, but if your budget is limited, or if you are a novice user and would like to start with a less expensive device, this is probably not the product for you.
Also, if you want your vaping device to be attractive, that fact alone may also put you off from ArGo.
Pros
With Arizer ArGo, you are getting one of the best dry vaporizers on the market
The product is very easy to use
It provides outstanding vapor
It's very easy to clean and maintain
The product fully supports additional accessories
Cons
It is not too pricey, but there are cheaper vape pens
Overall, the vaporizer design is not attractive
In conclusion
So, is Arizer ArGo a worthwhile purchase? Absolutely!
Not only are you getting a functional vaporizer, but you're getting one of the best vaporizers on the market from a reputable manufacturer.
If the product seems a bit pricey, remember that safety and trust have their price.