Most cannabis consumers have their preferred method of consumption, such as vaping, using bongs, rolling their own joints. Glass pipes are also gaining popularity among pot smokers.
Today, we're going to cover some basics on glass pipes and give you a list of what we think are the best glass pipes on the market.
What are glass pipes?
Glass pipes are used for smoking cannabis or tobacco. Unlike pipes made of wood or even clay, glass pipes do not alter the flavors, so many will say they're the best kind. Every experienced marijuana lover should have at least one in their collection.
They come in many different shapes and sizes: from simple and small to pretty extravagant models – true pieces of art.
A short history of glass (pipes)
Glass was invented nearly 5000 years ago, and life as we know it wouldn't be possible without it. But it was only in the 1960s, when the American Studio Glass Movement was born, that artists started using molten glass for contemporary art.
A couple of years later, Bob Snodgrass became one of the most important contributors to the art of making glass pipes. He mastered his technique while following the Grateful Dead on tour in the 1970s and 1980s.
Fast forward to today: glass pipes remain a top choice when it comes to smoking accessories. And it looks like they're not going anywhere. US head shops have seen huge growth over the last few years with an estimated $10 billion in annual revenue.
Types of pipes
There are five major types of glass pipes. Each type has its own advantages and disadvantages and creates a unique smoking experience. Your personal preferences will help you choose the best fit.
Chillums or hand pipes are small and basic pipes. Due to their size, they can be used for small amounts of weed which is inserted into the end, lighted and smoked.
Spoon pipes or upgraded chillums have a small "bowl" at the end, used for depositing ganja. Spoon pipes have a small hole called a carburetor which you cover with your finger to draw the air in.
Sherlock pipes (the name comes from the legendary Sherlock Holmes and the similarity to his famous pipe) have a long stem and a bowl at the end. Sometimes they have a flat bottom, allowing them to sit on a shelf or a table.
Steamrollers also have a bowl at one end, and both ends are open, functioning as carburetors. The smoke rolls through the pipe when inhaled.
Bubblers – just like the name suggests, these pipes generate some bubbling action while you draw on it. These pipes use water to filter the smoke. The end result is a finer flavor without harsh elements.
Pros and cons of glass pipes
Because of their size and ease of use, glass pipes are among the most popular accessories for pot smoking. Although we think they are one of the best options for both novice and experienced users, we need to mention some downsides along with their good points.
Pros
Glass pipes don't heat up easily
They are easy to use and maintain
They provide smoke without added flavors
No additional smoke is produced during use
Cons
They are more expensive than pipes made from other materials (e.g. metal)
They are easy to break
How to choose the best glass pipe?
First of all, consider your preferences. As we've mentioned earlier, there are several different types of pipes you can choose from. If you're looking for something portable and easy-to-use, a chillum may be the best fit. However, if you want an upgraded version that will enable you to enjoy sunsets in style, opt for the Sherlock one.
Here are some things to consider when buying a pipe:
Type of glass used: Not all pipes are made of the same kind of glass. Check out the product description and look for "borosilicate glass," "lab-quality glass" or "scientific glass." If you don't see any of these, it doesn't necessarily mean the glass is low-quality, but it could mean that it'll break easily or even heat up faster than it should.
If you're buying the pipe in a head shop, inspect it visually. Check if there are any spots and if the thickness is even. High-quality glass ensures your pipe will last longer.
Pricing: Quality pipes don't come cheap. Then again, the low price doesn't always mean low quality. If you're a first-time buyer or shopping on a budget, do some digging. Online shops and stores often have great sales.
Alternatively, if you have a chance to visit a convention, you could get a top-notch piece without breaking the bank. The prices are often reduced because those kinds of events are swarming with manufacturers and retailers.
Best glass pipes in 2020
Now that we've covered the basics, it's time to move on to the best glass pipe shortlist. Whether you're looking for an upgrade or you're a first-time buyer, our best glass pipe list is what you need!
We've covered a range of different products so you'll be sure to find a product that suits you best.
GRAV Donut Chillum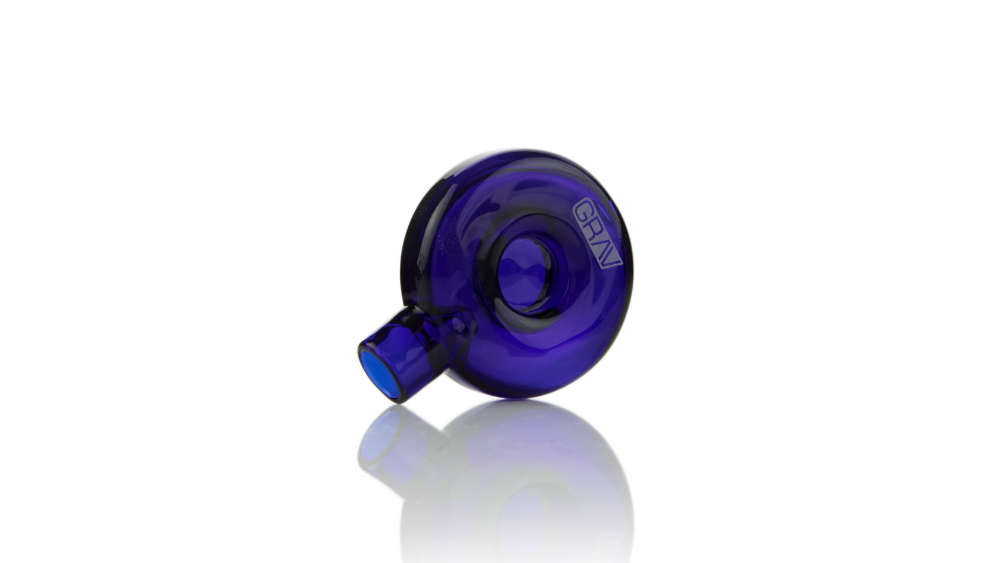 This little sweet delight won the hearts of many. With an average rating of 5/5, it deserves to hold the #1 spot on our list. The chillum-type glass pipe comes in 13 different colors – from delicate lavender to lake green.
The GRAV Donut Chillum has many perks: it's compact and discreet, small and portable, and so cute! A smooth hitter despite its size.
Note: These chillums can also make great gifts for friends.
Size: 2.5" x 2.5"
Manufacturer: GRAV
Price: $21 – $25
Marley Natural Steamroller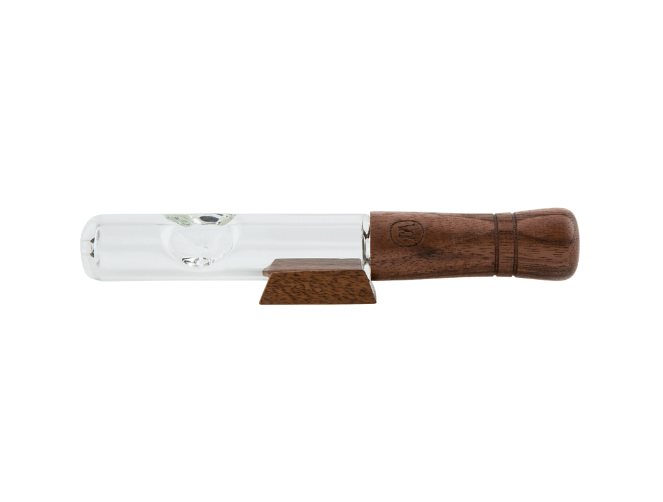 Marley Natural is the official Bob Marley cannabis brand. They have several lines of products that are created with the idea to help and unite people in their struggle for justice and equality. So, simply by purchasing any of their products, you know you're helping a good cause.
Their glass steamroller with a black walnut mouthpiece is a delight to use and comes highly recommended for everyday users. Unlike classic curved-shaped pipes, this one has a straight form that helps users intake larger-than-standard smoke. It is not recommended for tobacco, but only for weed.
Its parts are detachable so cleaning is a no-fuss process.
Size (height): 6,75"
Manufacturer: Marley Natural
Price: $72
UV Reactive Planetary Dry Pipe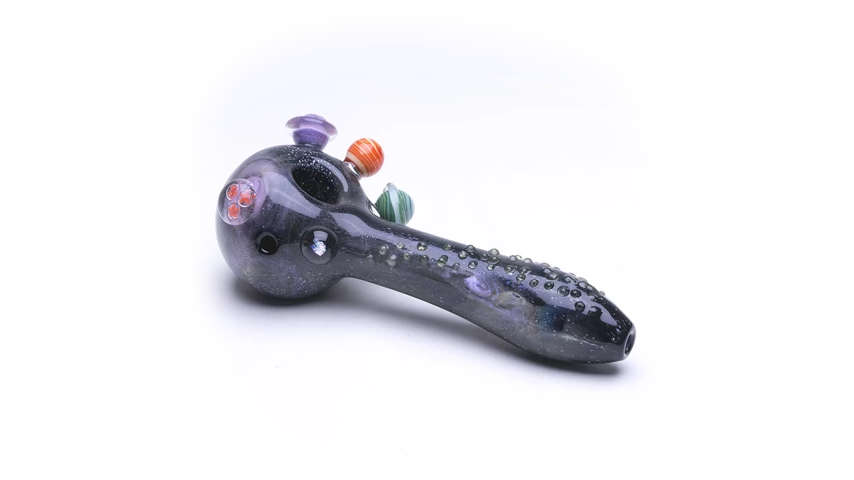 Let's fly to the moon and back! All we need is this galactic spoon and off we go. The magic starts once you put your pipe under a UV lamp – all the handcrafted stars and planets will come to life.
Made of high-quality Borosilicate/Pyrex glass, this glass pipe has a left side carb hole and gives a smooth hit. Whether you're looking for a travel companion or a Friday night buddy, you won't regret choosing THE galactic spoon.
Size (length): 5.5"
Manufacturer: Empire Glassworks
Price: $95
Higher Standards Beaker Package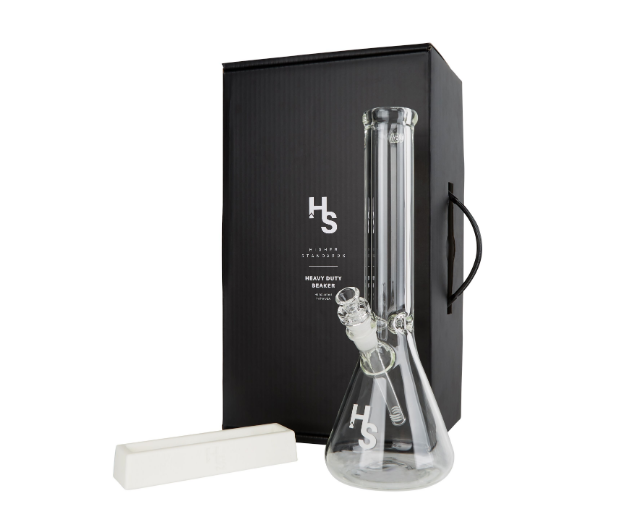 Having fans of elegant and simplistic design in mind, Higher Standards created this classy water pipe that is perhaps a bit on the pricey side, but well worth it.
The package includes a medical-grade borosilicate glass bowl, a diffused downstem that creates bubbles during use, a ground glass joint for an airtight seal, and a custom ice mold that helps you achieve very smooth rips. The bowl is made of high-quality glass resistant to all temperature variants.
The pipe comes in a neat-looking reusable case that you can use to carry your pipe around (though it's not that small). In short, this is class all the way.
Size: 14,25"
Manufacturer: Higher Standards
Price: $160
UNO Mini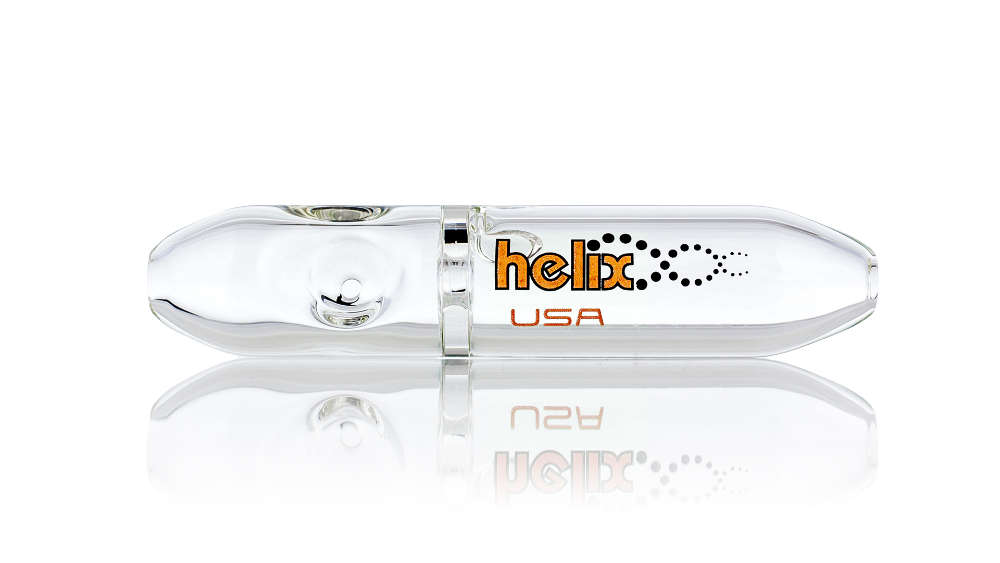 Don't let the name fool you – this tiny little thing packs a powerful punch!
UNO Mini has a single venturi inlet which makes a classic Helix swirl. This effect cools down the smoke as you inhale, providing impressive hits.
This one made it to our list because it's durable, portable and a timeless classic. The sleek look and design will catch anyone's eye.
Size: 5.25"
Manufacturer: American Helix
Price: $40
Marley Natural Spoon Pipe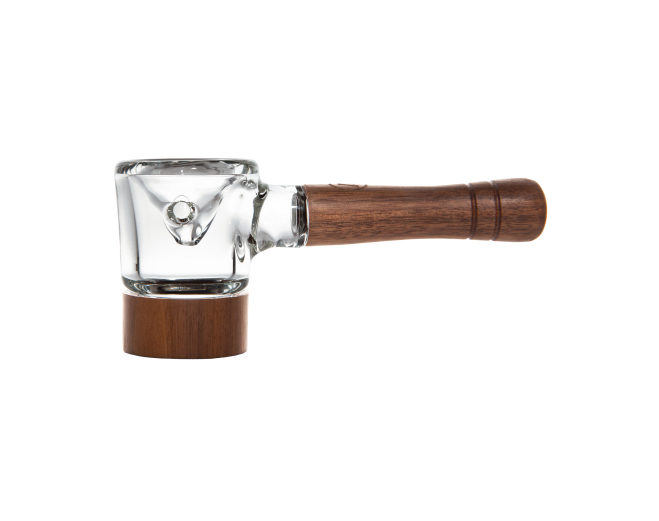 Another Marley Natural product deserves to be on this list – the spoon pipe. Made for true connoisseurs, it won't sit well in the hands of amateurs (though they could also appear to know what they're doing, because of the pipe's ease of use).
Its well-refined custom design, heat-resistant glass, and quality black walnut all serve to provide a very smooth smoking experience.
The pipe is made of detachable parts and it is smaller than most pipes on this list, so it's very travel-friendly – a perfect everyday companion.
Size (Width): 4,5"
Manufacturer: Marley Natural
Price: $68
GRAV® Jane West™ Cobalt Blue Upright Bubbler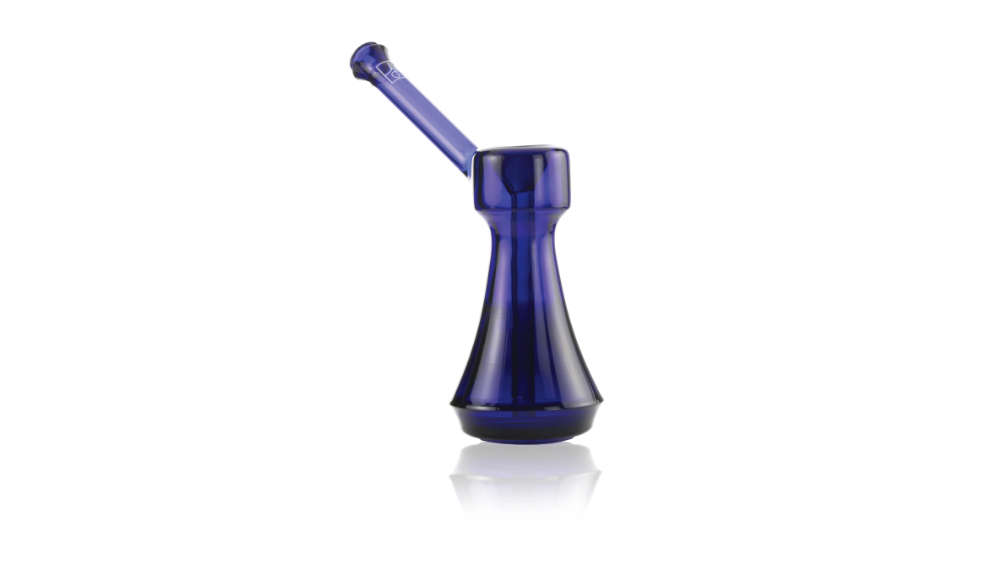 This cobalt blue 5.5" tall bubbler which fits in your hand perfectly is a piece you'll want in your private glass collection and for your everyday activities.
It's made of borosilicate glass and has an angled mouthpiece that rests on your lips comfortably.
You won't need any additional accessories for this bubbler. Works best with about 1.5" of water (which you need to change between uses to get a clean taste).
If you want to see this tool in action, here's a neat YouTube video presentation.
Size (height): 5.5"
Manufacturer: GRAV
Price: $120
K. Haring Bubbler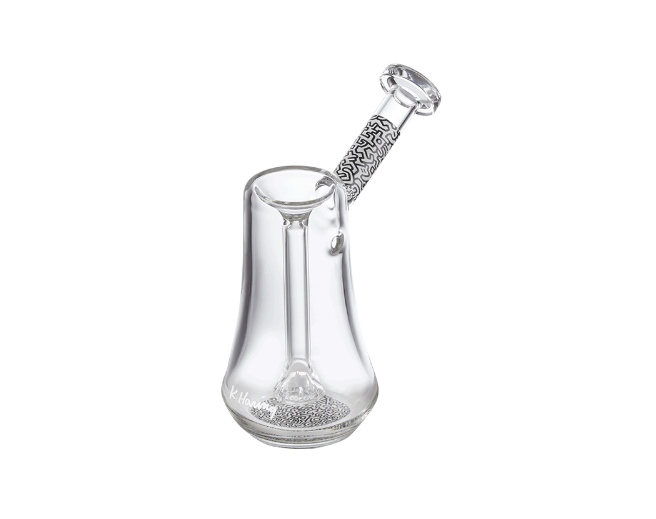 And here's one for street art lovers, featuring artwork by the famous pop artist, Keith Haring, on the bubbler's neck and base. It's definitely something to look at while enjoying the smoke.
The bell-shaped bubbler has a large bowl and wide base, maximizing its capacity. The smoke is very cool and smooth, thanks to the showerhead percolator with 8 slits that filter the water and purify the smoke.
The package includes a durable box that's also made pretty with Keith Haring's artwork and his signature, and you can use it to safely store or carry the bubbler with you.
Size (Width): 6,5"
Manufacturer: K. Haring
Price: $120
Dankstop Sherlock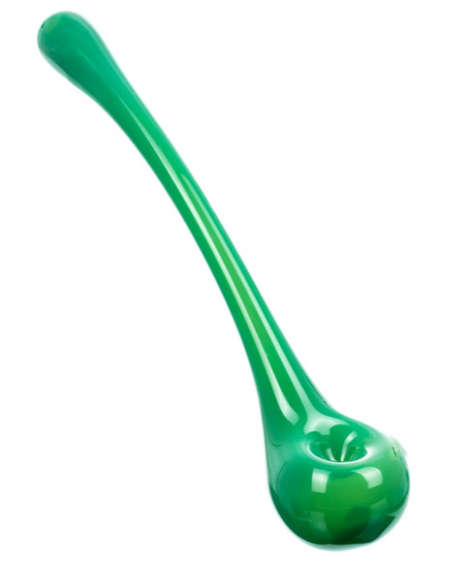 Put on your deerstalker and light up this fabulous Sherlock pipe by Dankstop. Top class all the way.
This pipe has a long neck and a deep bowl to fit a nice amount of flowers at a time. Thick borosilicate glass ensures durability and longevity. The bent neck keeps the water out of your mouth, which ensures safety, as your mouth will be away from the heat.
To sum it up: this is a functional and elegant hand pipe. Perfect for beginners and more experienced users. It also comes in a variety of colors.
Size (length): 10"
Manufacturer: Dankstop
Price: $29
MJ Arsenal Mini Rig Ursa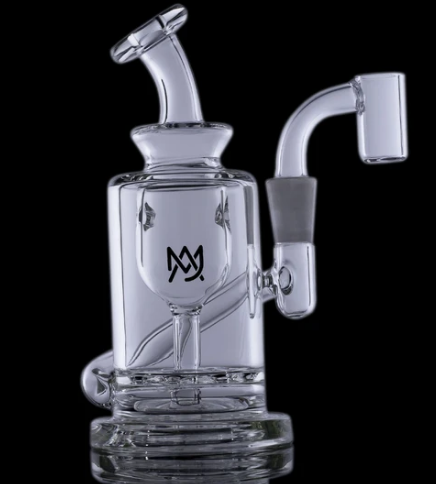 The Ursa mini rig comes with a very tiny banger. The whole device is so small that you may wonder about its usefulness, but it turns out it delivers amazingly smooth and long drains – not representative of its size at all! It can hold a relatively large amount of water, more than any other in MJ Arsenal's line of mini dab rig products.
It's very affordable and super portable, because it fits in your palm easily. It also has a built-in reclaim catcher that prevents any spilling.
It's completely made of glass, so make sure you carry it around protected in foam – the way it's packaged when it arrives from the store.
Size (Height): 5,2"
Manufacturer: MJ Arsenal
Price: $49
Conclusion
So, what do you say? Have you found THE one?
The ones we picked are all top-notch glass pipes. You won't be disappointed by any of these.
But remember, you have to choose a pipe that'll suit you best. Keep in mind your habits, your needs, and your budget.
For example, if you're a frequent traveler, there's no point in buying a bubbler. Changing the water, cleaning and packing will all be too much of a hassle. On the other hand, a donut pipe or a spoon pipe will fit into your pocket easily and follow you anywhere you go.
All in all, take your time. You can write down your wishes and do some additional research. We hope our article pointed you in the right direction, but the final decision is yours.