Third time's a charm, isn't it? Boundless should hope so.
After releasing two semi-successful versions of the Tera, Boundless found themselves in a bit of a pickle, facing a fair share of user-generated pressure.
Everyone saw the potential in their ingenious product, but, somehow, it failed to meet the expectations the first two times around.
Nobody really enjoyed the weird taste the first two versions produced, let alone the poor plastic heater material.
So, here's the question. Has Boundless finally risen to the occasion and delivered a product that speaks volumes about the company's true potential?
To put it plainly, it has.
And, as far as we're concerned, it's one of the most beautiful comeback stories we've seen thus far on the vaporizer market.
Nowadays, companies don't care about customer suggestions and critiques that much. But, luckily for us, Boundless isn't just another profit-oriented company. The latest version of Boundless Tera clearly shows how much they care about their customers' opinions.
The first encounter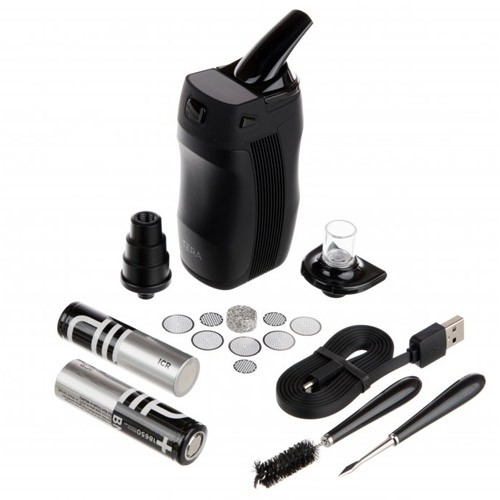 Owning a vaporizer isn't cheap. Especially when you're dealing with the likes of Boundless Tera that are capable of vaporizing both dry herbs and concentrates.
A lot of manufacturers aren't that keen on providing their customers with all the necessary accessories they'll need to get the most out of their devices.
That means that in order to acquire every single piece of equipment you really want or need, you're probably going to have to spend a substantial amount of extra money doing so.
Once again, even in this regard, Boundless proved to be a different breed of manufacturers.
Here's a list of things you get straight out of the box (when you purchase the Boundless Tera):
The device itself (V3 of the Boundless Tera)
WPA (Water pipe adapter)
Glass mouthpiece
2 extra mouthpiece screens
5 extra chamber screens
2 2500 mAh 18650 Batteries
Stainless steel concentrate pad
Cleaning brush
Stirring tool
Micro-USB cable
User manual
To some, this may not seem like a huge deal, but it really is. When you're able to start vaping from the moment you unbox the device, life becomes that much easier.
The shape of the future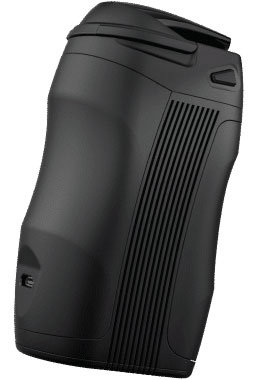 When you look at the vaporizer market from afar, you become aware that ergonomics and beauty aren't easily merged into something that both looks and feels incredible.
Now, some people have criticized the Tera for being way too chunky. To a degree, its substantial body hinders its portability, and we can't argue with that, but it isn't anywhere near to being a deal-breaker.
However, using a vaporizer that feels super well built and capable of enduring harsh treatment is nice, for a change.
Granted, you won't be able to carry it around in your pocket, nor will you feel comfortable using it out in the public because it isn't what you'd call inconspicuous.
Then again, it wasn't meant to be discrete. It was meant to be a cloud-making machine!
The Tera stands 4.25 inches tall, 2.25 inches wide,1.5 inches deep and weighs 10 oz.
Holding it in your hand is a real treat, especially because of the ergonomically designed ridges for your fingers and the rubber exterior coating.
It sports a very simple and clean LED display on the top, which informs you about the current temperature setting and how much battery you have left.
The device itself is incredibly easy to operate. There are no more than three neatly positioned buttons with which you turn the device on and off (using the central button located on the front of the Tera) or change the preferred heating temperature (using the two buttons on the sides of the device).
You can also flip the units between Fahrenheit and Celsius by pushing the two side buttons simultaneously.
However, one of the coolest features of the Tera has to be its haptic feedback. When you turn the device on or off, it vibrates slightly to let you know that your vaping session has started/terminated.
Performance and temperature control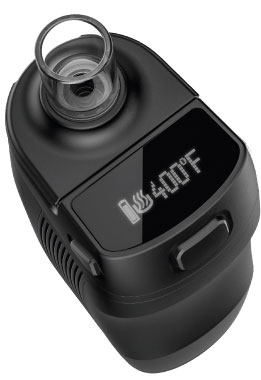 Boundless Tera is a powerhouse vaporizer. Keep that in mind.
In order to start the device, you just have to push the power button five times. After that, you proceed with loading the chamber with up to 0.5 grams of finely ground weed and setting your preferred heating temperature.
When you're ready to go, the only thing left to do is press the power button for three seconds for your vaping session to commence.
The Boundless Tera takes around 20 seconds on average to reach any given temperature (even when the battery is low).
As far as temperature settings go, the Tera offers a very decent temperature range from 140°- 428°F (60°-220°C) for dry herbs and goes all the way up to 500°F/260°C when you're in concentrates mode.
Choosing the right temperature couldn't be easier with the Boundless Tera. The LED display mounted on the top keeps you updated on the current temperature setting which you can change by using the two side-mounted buttons.
One unusual quirk of the Boundless Tera is its inaccurate temperature control. Oftentimes, when you're taking a long draw, the temperature tends to go above the chosen setting. Not by a long margin, but still… Why?
Of course, the problem would be a big one if the temperature delivery wasn't consistent, but it is. Therefore, this is just a matter of getting used to something.
Underwhelming battery life
Battery life is probably the biggest let down when it comes to the third version of the Boundless Tera.
It uses two powerful 2500 mAh batteries and because of that, we all expected it to tear down the competition in this regard.
But it doesn't.
When fully charged, the Tera is capable of delivering ten six-minute vaping sessions. That's about an hour's worth of battery life.
That wouldn't be such a poor number in itself, but there are a lot of vaporizers out there that use only one battery, and manage to deliver at least thirty minutes more than the Tera.
One of the reasons why the Boundless Tera delivers a subpar battery performance has something to do with its parallel battery setup (both positive contacts are at the top).
Usually, parallel battery setups are aimed towards maxing out the performance output of the device, rather than maintaining decent battery life.
Precisely because of this, the Tera can be what it's meant to be. A potent cloud-making machine!
So, whoever thinks that Tera's battery life is nothing more than a hindrance, to each its own…
Heavenly clouds
At last, we come to Tera's party piece.
No other vaporizer in this price range is capable of delivering such majestic clouds as the Boundless Tera.
Also, since this is a convection vaporizer, you don't have to worry about your herbs being completely cooked when you're not drawing!
Some users have complained about the fact that you have to take long and strong draws in order to produce thick clouds. We've found that as long as your draws last no less than three seconds, you'll be more than pleased with the output.
Sure, the first few draws are going to be more flavor-packed than the later ones (which are usually thicker). But, overall, the vapor quality isn't something we had a tough time accustoming to.
This significant vapor quality improvement has to do with Tera's new stainless-steel oven which allows for even heat distribution and better overall taste.
But, since the Tera is a true convection vaporizer, during your sessions, you'll have to stir up your herbs from time to time in order to avoid having uncooked greens on the sides of the bowl.
One last thing worth mentioning is the awesome water pipe adapter that comes with the Tera.
In order to utilize it, you just have to replace the standard mouthpiece with the adapter and place it onto the stem of your water pipe. Trust us when we say, the Tera makes heavenly clouds when used in conjunction with a water pipe.
The taste reaches its peak, and so does the cloud production.
Worth a shot?
Because of Boundless' praiseworthy comeback with the third version of the Tera, we really wanted it to be a flawless piece of engineering.
However, it isn't.
Novice vape heads are gonna have a tough time dealing with the thick and pungent vapor that the Tera produces. Also, a lot of consumers hold portability as the crucial IT factor when it comes to vaporizers, and, in that regard, the Tera falls short.
Not to say that the Tera isn't awesome, but it's designed for a specific kind of customer in mind.
In order to enjoy the Tera to the fullest, you have to be an experienced stoner with lungs of steel who doesn't mind taking big draws. Plus, given that the Tera delivers a serious punch despite being a "small" device, it can easily become your only vaporizer, regardless of whether you're home or on the go.
If you're the kind of weed head we've just described, make sure to click here and check out the Boundless Tera for yourself.
It might just be the one you were looking for all along!