If you love vaporizers, Boundless is probably a brand that's close to your heart.
Despite the company's brief history (launched in 2015), Boundless managed to become one of the leading manufacturers in this niche market.
What sets them apart is their ingenious and intelligent design, state-of-the-art technology, and most importantly, budget-friendly price tags.
Their new Boundless CF vaporizer is the perfect case in point.
Not only is it a brilliantly designed hybrid vaporizer (combines convection and conduction heating methods) that's easy to carry around in your pocket, but it's also a beast (spec-wise) that won't break the bank.
Mind you, it's also capable of vaping both concentrates and dry herbs.
As far as we're concerned, the Boundless CF is probably the strongest contender for the best value vaporizer of 2019.
So, what makes it so special?
Start vaping from the get-go
Boundless has its own fashion of doing things.
One of the perks of purchasing a Boundless product is that in order to unlock the device's full potential, you don't need to buy any additional equipment.
Here's what you get straight out of the box: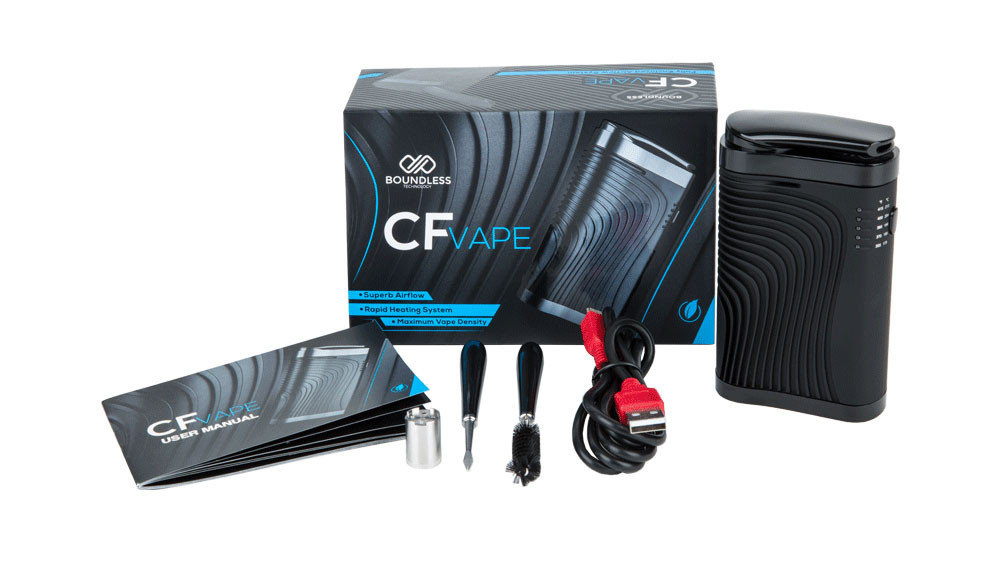 The unit itself
USB charging cable
Concentrate container
Cleaning brush
Dab tool
User manual
Quite simply, these are the essentials that allow you to fully use the device from the moment you pull it out of the box.
Given that it costs just a tad over $100, you can't help but be satisfied with what you're getting.
Designed like no other
Though the Boundless CF is classified as a portable vaporizer (which it is), it's by no means the ultimate, inconspicuously small device.
For example, the likes of PAX 2 are much more constricted in size, making them easier to conceal in situations when you want to do so.
Nonetheless, the CF is a vaporizer that can easily fit both in your hand and your pocket.
It stands 4.5 inches tall and 2.5 inches wide, so it's safe to say that if you want, it can become your go-to on-the-go vaporizer.
What's striking about the CF is its stunning futuristic design. To us at least, it looks like a robotic heart that you'd expect to see in a sci-fi movie. And we love that.
However, the reason why it looks so futuristic has a lot to do with ergonomics, efficiency, and practicality. For example, the black silicone exterior coating doesn't just provide a solid grip, but it also allows the vape to remain cool (this is particularly handy when you're enjoying longer vaping sessions).
Also, the contoured shape makes you feel more comfortable about safely holding the device. Thus, the chances of you dropping it diminish significantly.
What's not so futuristic about the Boundless CF is that it doesn't sport any kind of display (and that's a must, isn't it?).
However, a lack of a display isn't necessarily a drawback.
If you take a look around in almost any given moment, there's a good chance that you'll see at least a couple of displays somewhere.
So, to a degree, the absence of a display feels refreshing somehow.
The implementation Boundless have settled for is a series of small LED lights that indicate the temperature setting you're currently on. To make things even better, you only have one button at your disposal to operate the thing. Therefore, the CF is the perfect vaporizer for novice users.
But that's not all. If you aren't a big fan of LED lights, you can always press down the power button for three seconds to turn on the CF's stealth mode which immediately shuts down the LEDs.
Battery life and temperature settings
One aspect of the Boundless CF we aren't that fascinated by is the battery performance.
Though it sports a very solid rechargeable Li-ion 18650 battery (1300 mAh), it doesn't provide as much juice as you would want it to.
An hour's worth of battery life is what we're looking at here (that would be around 10-15 vaping sessions). And to make things worse, the CF's battery takes around three hours to fully charge.
Now, we aren't saying that this is terrible, but it'll most certainly be a dealbreaker for a handful of potential customers.
It's worth noting that you're able to check the status of your battery despite not having a display to read it from. Just press the power button three times and the device will let you know just how much juice you're left with (by utilizing the LED lights).
In order to preserve the battery life, the Boundless CF comes with an automatic shut-down timer that turns off the device if you're not using it for more than six minutes. Now, that's neat.
When it comes to temperature control, the CF doesn't offer full adjustability. What you do get are five different temperature settings that start at 355° F and increase all the way up to 415°F in 15° F increments.
These five settings are more than enough for both novice and experienced users. Of course, if full adjustability is something you aren't willing to sacrifice, you can always settle for the CF's big brother, Boundless CFX, which does offer that.
However, what's amazing about this particular vaporizer is that, at 80W, it's one of the most powerful devices you can get nowadays. This is super important because it allows the CF to achieve an under-20-seconds heat-up time!
Overall performance and vapor quality
One major hallmark of the Boundless CF is its remarkable air-flow which significantly improves the overall vaping experience.
In order to secure the best possible vapor quality and air-flow, Boundless decided to completely isolate the air-path from the electronics, thus creating a medium resistance vaporizer that's a complete joy to use! Very few vaporizers on the market can boast about sporting this kind of feature.
So far, it's hard not to be impressed by the things the CF offers. However, what about the bread and butter of all vaporizers? What about the taste and vapor quality?
Well, we're happy to say that things just keep getting better.
Because the Boundless CF utilizes both conduction and convection heating methods, the vapor quality it produces is simply staggering! Before you know it, you're lost in a sea of pretty dense clouds.
Best of all, regardless of how much battery you have left or how knackered the device is, the results it produces are stunningly consistent.
And yes, with the CF, there isn't the perfect amount that brings the best out of the device. Whether you're vaping small doses or fill the chamber to the brim (0.5 grams), the results stay the same.
Of course, if the pure taste is what you're after, it's always better to use lower temperature settings in order to squeeze out all the odor from your herb.
One of the reasons why many vape fans use the CF as their daily driver has a lot to do with its low-resistance air-flow. When a vaporizer offers you a feature such as this, it makes using it on the go (even during your outdoor activities) that easier.
It's a no brainer, then?
When a certain device is praised a lot, there often comes an unpleasant BUT, afterwords.
However, with the Boundless CF, there's just nothing huge to complain about. Sure, the battery life could and should be better, but it's not like you're getting just 3-4 vaping sessions out of it.
But I want to be able to completely control the temperature levels, you might say. That's all fine, but the CF's default temperature presets will satisfy most people's needs.
Therefore, whether you're a novice vapehead or an experienced stoner, you'll find the Boundless CF to be a flagship performer that gives so much and costs so little.