Mighty is a vaporizer line that came out at the same time as its sister line—the Crafty.
It's produced by Storz & Bickel, one of the top competitors in the race for the best vaporizer manufacturer.
Storz and Bickel offer several other types of vaporizers, however, their desktop versions are what really stands out in the market at this moment.
Make sure you read our comparison of their two most popular desktop vapes—Volcano Classic and Volcano Hybrid.
The Mighty is known for its long battery life and more than decent vapor quality. It's an expensive toy, but most who bought it don't regret the money spent.
What's in the Mighty box?
The Mighty comes with a lot of extra parts, which is something you'll definitely appreciate. Even without all these added things, Mighty would still rank very highly in the world of handheld vaporizers.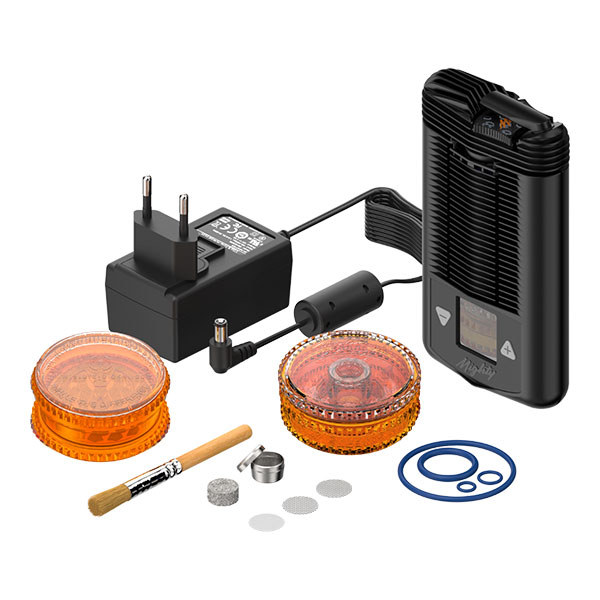 Here's a list of all the things that come with the device:
1 Power Adapter 110 Volt
1 Set of Spare Seal Rings
3 Spare Screens (approx. Ø 15 mm)
1 Drip Pad (approx. Ø 15 x 5 mm)
1 Filling Aid
1 Herb Mill
1 Dosing Capsule
1 Cleaning Brush
1 Set of Instructions
It also comes with a 2-year guaranteed warranty.
Tech specs
Mighty kills it in this category: It can handle all types of material, charges quickly, lasts longer than its competitors and overall provides a premium vaping experience.
Having all those perks, while also being portable, makes Mighty one of our top picks for handheld vaporizers.
Battery life & charging options
Storz&Bickel's Mighty is known for providing long sessions with its durable batteries.
The Mighty's battery life is around 90 minutes when fully charged, and working on the highest temperature setting.
It has two lithium-ion batteries which take about 2 hours to charge fully.
The downside here is that it uses a unique charger, which means that if you lose it you won't be able to just replace it with a regular android charger.
Flowers, concentrates or both?
You can use both flowers and concentrates with the Mighty.
It comes with a grinder, so that accounts for its ability to vaporize flowers.
Extracts are used by placing them on what the manufacturer calls a "dosing capsule". These small metal caps will allow you to dose yourself properly, and not pack the vaporizer too much so that you cause damage to the unit.
You can also get liquid pads, which are also small metal caps but just less porous than the dosing capsule—this is so that the concentrates don't fall through.
On another note, using these capsules for both flowers and concentrates is strongly advised since the Mighty is a pretty expensive toy after all.
There are better tools for consuming stronger concentrates such as BHO, so I'd leave the Mighty for vaporizing flower and hash, even though it can technically be used for other extracts too.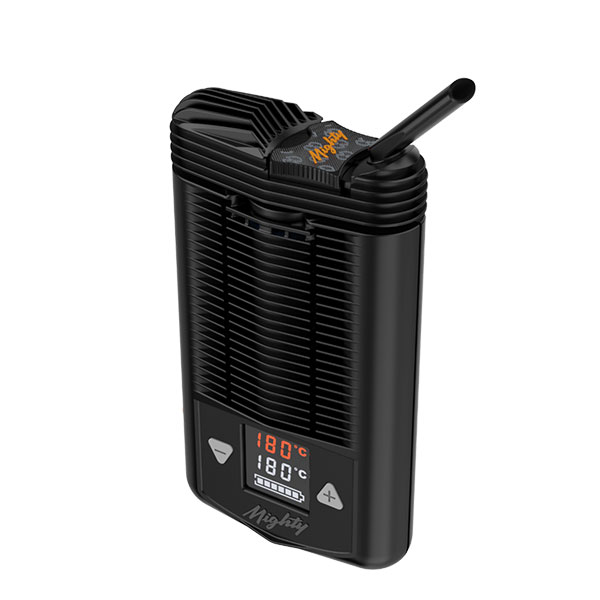 Mighty temperature control settings
The Mighty has an awesome LED screen which will show you the chamber temperature compared to the desired temperature.
Its smaller cousin Crafty doesn't have this option, which makes the Mighty a bit more trustworthy as a method of consuming medical cannabis.
The temperature can be set to anywhere from 40°C (104°F) to 210°C (410°F).
Mighty vapor quality
The Mighty will give you an extremely pleasurable experience when vaping because of its high vapor quality.
It doesn't have as good of vapor as the Arizer's line of vaporizers, but it's damn near close. This is because its chamber-to-mouth distance is not as long as the one in the Arizer—however, it's also significantly longer than the one in the PAX 3 and G-Pen Elite.
The upside is Mighty's mouthpiece, which gives the vapor time to cool down a bit and enables you to feel the full taste of the weed without scorching your mouth.
Simply put, you'll definitely get a taste of the terpenes with the Mighty.
Mighty design
Mighty is one of the bigger handheld vaporizers on the market.
It's definitely much bulkier than the PAX 3 vaporizer, which is why you can always opt for the smaller Crafty.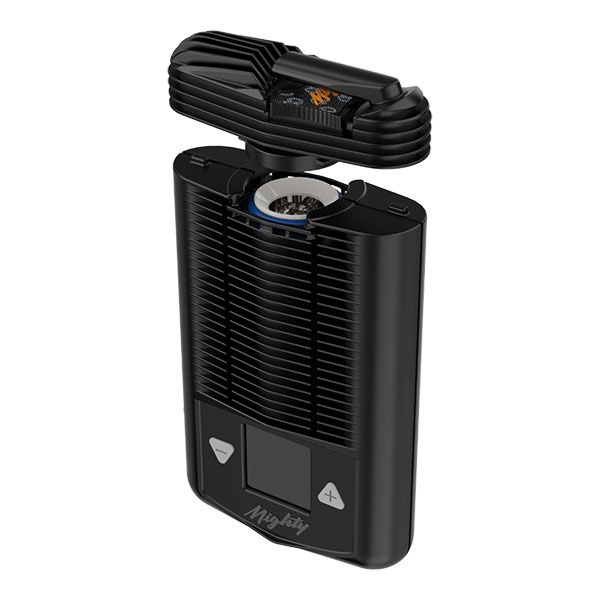 It has two batteries, one on each side of the filling chamber, which is in the middle of the unit.
On the front side, you will notice the screens with two input buttons which are triangle shaped and are used to set the temperature.
On top of the chamber, you'll find Mighty's unique cooling system. It's important to mention it because it gives the vapor a longer path to the mouthpiece, thus retaining the flavor but lowering the temperature.
It's also important to mention that the Mighty is extremely sturdy and doesn't break easily.
How to use the Mighty
The Mighty is pretty simple to use.
The top of the unit is completely detachable, and it is used to open the unit so that you could fill up the chamber.
Mighty's chamber can fit up to 0.3g of dried flower when finely ground, but if you're using the dosing caps than you will be able to vape only up to 0.2 g per session.
It makes use of both convection and conduction to heat up the material.
You start your session by filling the chamber up. Click on the orange button on the left side to turn the Mighty on, and select the temperature you want.
It has a fairly short heat-up time, so give it at least about 30-60 seconds before you start making vapor clouds.
How to clean the Mighty
You can clean the Mighty using Vape Wipes, or any other type of baby wipes.
Some users clean it after a few sessions, while others don't clean it at all, it's just a preference thing.
If you are a heavy user, I strongly suggest you get the "Mighty Wear and Tear set" which will give you a couple of additional tools that will extend the life of the unit.
With that set you also won't have to clean the unit as often, since you can just keep the dose caps and cooling units in a rotation.
You should also get that set if you plan on using it for concentrates, as it seriously pays out to spend an additional $35 when you're spending that much money already.
Mighty Standout Features
Even though the battery lasts for about 90 minutes, you can also use the Mighty while it's charging, which is not that common in the world of vaporizers.
Aside from that, nothing about the Mighty stands out except for its size and chunkiness. This isn't a vaporizer you could easily hide from the cops if you plan on getting high in your car, or somewhere in the park.