| Product | Pax 2 |
| --- | --- |
| Warm Up Time | 20 sec |
| Battery Life | 70 min |
| Temp Control | Yes |
| Temp Range | 182 - 216°C |
| Price | CA$199.99 |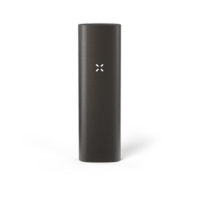 What's in the Pax 2 box?
Pax 2 comes in a nicely designed box, with a bunch of fancy details. Everything inside fits perfectly, just like a puzzle. The device comes with a:
Charger
Maintenance kit (pipe cleaners and alcohol)
Two mouthpieces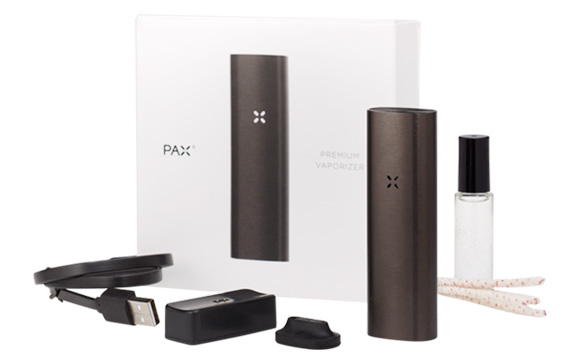 The kit is pretty basic and there aren't many extra items in it. On the manufacturer's website you can get a lot of different accessories in case you'd like to expand your kit, or find replacements if something gets broken or lost.
Pax 2 tech specs 8/10
Battery life & charging options
Pax 2 is powered by a 3000 mAh battery. This larger battery provides approximately 30% more power than in the original Pax, and a little less than on its successor Pax 3. However, this unit offers a lot more than just decent battery life.
When the battery runs out of power, it takes about 90-100 minutes to charge it, which isn't quick compared to other vaporizers in this price range.
If you have your device fully charged and ready to go the battery should last for at least 5 sessions.
In general, the batteries in Pax vaporizers are known for their durability, and you'll definitely be using this device for years to come.
Pax 2 is charged through a magnetic USB charging dock, which means you don't need to plug in the charger.
During the charging process, the LED petals will flash white: One petal signals that the battery is at 25% charged, two petals that the battery is between 25% and 50% and so forth.
The petals will stop pulsing once the device is ready for use.
To check how much battery you have left, just shake the device and the battery lights will flash—I think this is a very futuristic feature.
The only downside of the battery is that it's not replaceable. Hence, if the battery dies, your Pax dies with it.
At this point, Pax's fantastic warranty comes into play, which we'll discuss later on.
Flowers, concentrates or both?
Pax 2 is compatible with dried herbs only.
If you're not a big fan of dabbing, this unit will serve you just fine. But if you like to keep all of your options open, then I think the Pax 3 is a better option.
Does it have a display?
None of the Pax devices have a display. Instead, they use LED lights shaped like petals to indicate both the current temperature of the device but also the heat-up progress.
Although I prefer LED screens, I'm completely willing to give up a screen for a design as nice as this.
Any screen would definitely ruin the minimalist design, which is a feature that separates Pax products from all other vaporizers.
Since there is no precise temperature control, the flashing petals perform just fine.
Temperature range
The temperature on the Pax 2 ranges from 182°C (360°F) to 216°C (420°F).
Temperature control is fixed, in 4 settings which you can also see on the screenshot below.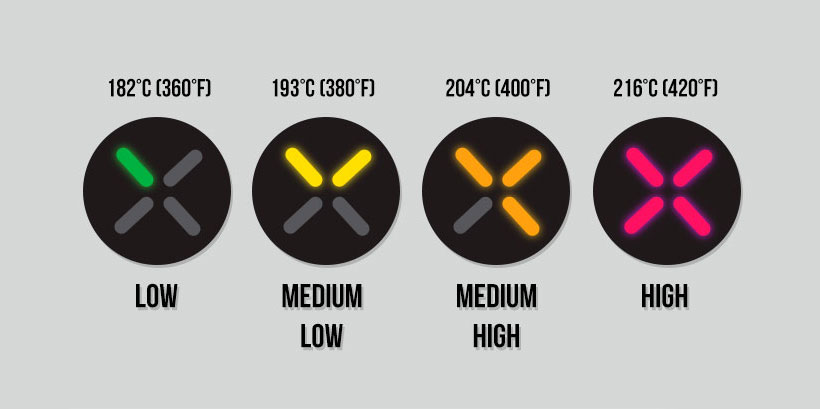 Since this unit isn't compatible with concentrates, these four temperature settings are more than sufficient for vaping weed.
One small thing I don't really like about this vaporizer is that it gets a bit warm in your hand when it's being used.
During the heating process, you will also want to manually lower the temperature and then increase it again so your weed doesn't burn too fast.
The guys from Pax fixed this issue on the Pax 3 by adding the option to change the temperature via the app on your phone.
Pax 2 vapor quality 9/10
Let's talk about the most important thing when it comes to buying a vaporizer—the vapor quality.
Pax 2 produces flawless vapor.
Firstly, the airflow is completely smooth. If your vaporizer is clean there is practically no draw resistance, the vapor path is excellent and the vapor itself ends up being cool and full of flavor.
This unit makes dense and thick vapor, but don't expect huge clouds. Instead, you'll get pure vapor that is very rich in cannabinoids and terpenes.
Pax 2 design 9/10
The design of the Pax 2 is immaculate. The minimalist look paired with high-quality materials makes a perfect symbiosis of ingenuity and engineering.
In fact, Pax devices are designed so nicely that they're often called the iPhones of the vaping world.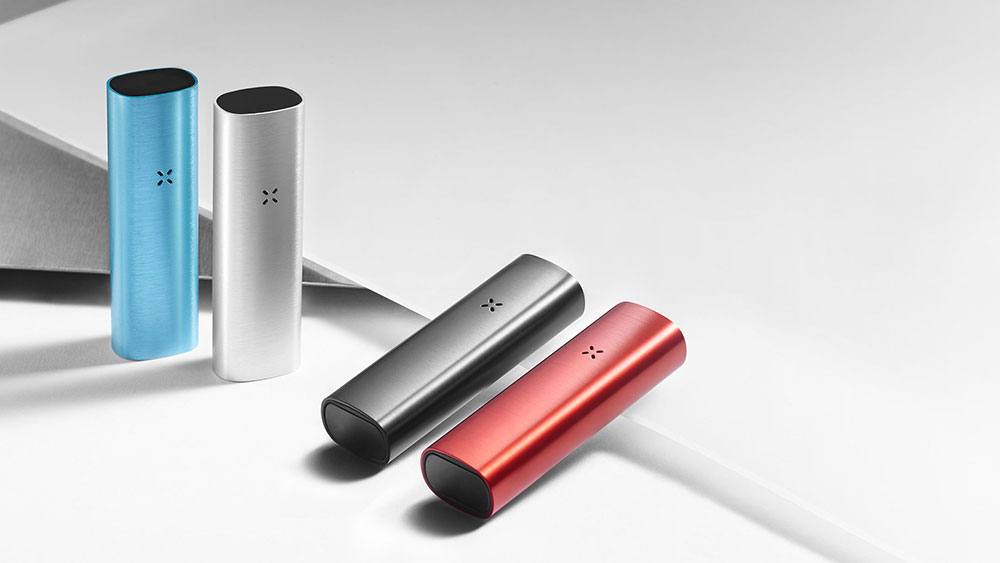 Pax 2's dimensions are 3.87" x 1.21" x 0.8", so the unit is quite small and weighs just 90.2 grams, which makes it very portable and discrete.
At the moment, you can choose either the black or silver colorway for your new Pax 2.
How to use the Pax 2
Filling it up & chamber info
Pax 2's chamber is actually quite large. It can fit between 0.3 and 0.4 grams of dry herb. This is definitely too much for a solo vaping session.
You can always take a break and basically split the packed oven into two sessions, but this isn't recommended because the first session deteriorates the taste of the remaining weed.
Find the right strain for you
Whether you want to relieve anxiety, pain or depression, the right strain is out there. Use our online tool to narrow the search.
To start using the device, finely grind your weed, open the lid and place your herb into the chamber. Close the lid and put the mouthpiece back into position.
How to set the temperature on Pax 2
Before you start using Pax 2 for the first time, make sure it's fully charged. Connect the USB charger to your computer (or adapter), and place the device on the charger until all petals stop pulsating.
To turn it on, press the power button located in the center of the mouthpiece. Choose the desired temperature by holding down the mouthpiece button for a few seconds.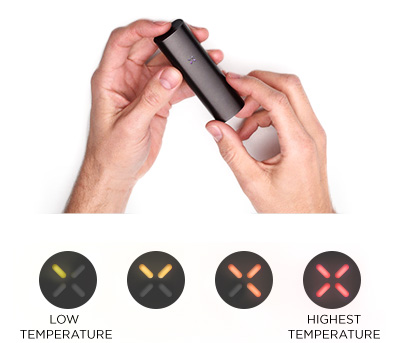 The petals will change from green to yellow, yellow to orange and orange to red, depending on the number of times you've pressed the power button. Once you enter the temperature mode the device will start heating up.
When the LED lights turn green, the device is ready for use. Don't start vaping while the unit is still heating up.
To exit the temperature mode press the power button again, or just shake the device.
How to clean Pax 2
Pax 2 is a low-maintenance device but it needs to be cleaned occasionally to ensure maximum longevity. To clean it, you first need to remove the mouthpiece and the oven lid.
Take one pipe cleaner from the cleaning kit and dip it in isopropyl alcohol. Scrub the internal oven screen.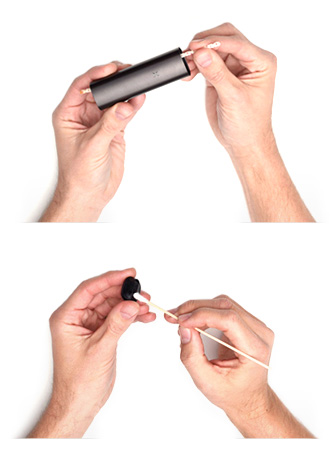 Soak the screen in isopropyl alcohol, but don't do the same for the oven lid.
Instead, clean the mouthpiece and the inside of the oven with a cotton swab which you soaked in alcohol.
When all the pieces are dry, put everything back together and you are ready to use your device again.
Pax 2 standout features
Pax 2 comes with a 10 year warranty, which is way more than its main competitors.
Pax devices in general appear as extremely durable, high-quality gadgets.
So if you ask me, when we take everything into consideration, Pax 2 is still very competitive.
Final Verdict
Although it's not a cheap device, I find that Pax 2 is worth every penny of the $200 it goes for. The vapor quality, the design, battery life—everything is top notch. It's a very simple vaporizer to use and even a first-timer would have no trouble figuring it out on the first go.The only thing that could be improved is having a slightly smaller oven chamber. However, if you are used to vaping at least 0.3 grams per session or if you enjoy consuming cannabis exclusively with other people, then this isn't really an issue at all.