When looking for a new vaping device, we usually want our dreamlike product to be several things: functional, durable, and affordable.
Some people also want their vaporizer to be visually appealing.
Finding a product that satisfies all of these criteria is much harder than you think, but luckily, such solutions do exist. One option that is worth considering in that regard is Vivant Dabox.
Vivant Dabox is hardly a revolutionary product, but it's a comprehensive solution that can satisfy the needs of many cannabis enthusiasts who consume it frequently. In the review below, I will explore all the fundamentals of this vaping device so that you can get a good overview of whether this is a product that you will want, can afford and use in the long run.
Let's get started!
Technical specifications
| | |
| --- | --- |
| Charging time: | One hour |
| Battery capacity: | 1500 mAh |
| Battery voltage: | 110V |
| Heat-up time: | Five seconds |
| Width: | 1.92" (4.9 cm) |
| Height: | 2.55"(6.5 cm) |
| Weight: | 185 g |
Unboxing Vivant Dabox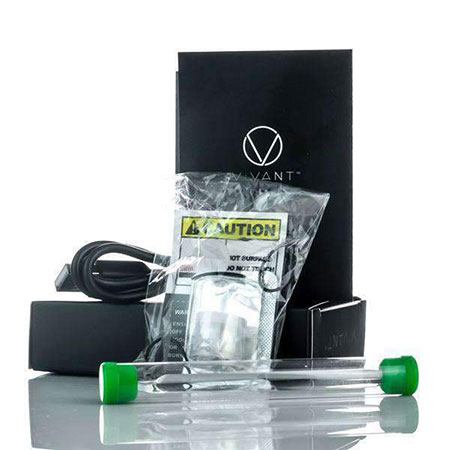 Here's a full list of accessories that you will get once you unbox this vaping device:
One Loading Tool
A USB Cable
Dual Quartz Coil and a Dual Quartz Clapton Coil
One Borosilicate Glass Chamber
The Vivant Dabox Vaporizer itself
The box has no room for additional Vivant Dabox vaping accessories, but the good news is, you won't need them at all. Everything that you will ever require to get the unit up and running is already included in the box and that's indeed a wonderful thing to see.
Let's take a closer look at the product itself now.
Design and features
The first thing that you will notice is that Vivant Dabox is really well built. The build is very solid and durable, and I can add that the whole unit has a great visual appeal as well. It has a convenient wax pen design but it's not as tall and it can fit anyone's hand quite easily.
There are some design choices that I don't like here (for example, I am not a fan of silicone splatter guards), but nonetheless, the whole design gets a solid 9/10 score from me.
Temperature
You can't control the temperature levels manually here, but the good news is, you don't have to. The device has a fixed temperature setting that is carefully optimized to please the needs of even the most demanding cannabis users. You do have the flexibility to finetune the performance via the interchangeable coil system, though (I will talk about that in the lines below).
Interchangeable coils
The unit comes with two interchangeable Dual Quartz coils that you can use to optimize the performance of your vaporizer. That way, you can improve the flavor of your concentrates. If you want rich and potent flavor, you should use the Dual Quartz Rod atomizer as well. Otherwise, if thick clouds are your favorites, you can stick with the Dual Quartz Clapton Coil.
Power supply
Vivant Dabox comes with a 1500 mAh battery, and once fully charged, the power can last for days on end. Even the most demanding consumers won't be disappointed as they will be able to enjoy a full day of high-quality vaping.
We have three different lights here – red, blue, and green and they all indicate different battery levels. The charging process doesn't take long and all you need is one hour of patience.
Portability
The great news is, Vivant Dabox is a highly portable unit. You can carry it around as you go and the device slips into any standard backpack. If you're a frequent traveler or you just admire the fact that you can carry your vaporizer with you and share that experience with like-minded individuals, you will definitely love Vivant Dabox.
The Flip Door feature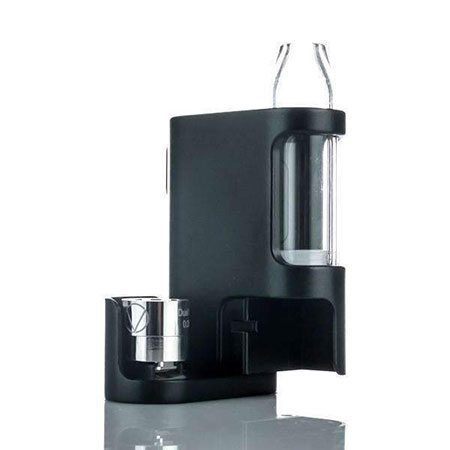 The last feature on this list is, by far, my favorite one. Unlike many conventional vaping units, the loading process here is very straightforward. The reason for that simplicity lies in a remarkable feature called the Flip Door. With this addition, you can load your concentrates on the go and without putting any (significant) effort. If there's one selling point that sets this product apart from its competitors, it would definitely be this one.
Vapor quality
The vapor that you're getting with this vaporizer is not remarkable, but it's solid enough to provide an enjoyable experience. The clouds have a nice density and the flavor itself is strong and profound.
The only real issue I have here is the lack of consistency. Overall, you can expect better results with the Dual Quartz Rod atomizer whereas the Clapton Coil atomizer will provide an inferior aroma and the heat-up time may also be somewhat longer.
It's not a deal-breaking situation, but if you're a perfectionist like me, you'll want to optimize every detail for maximum performance, which is why I had to note it.
Ease of use
Vivant Dabox is one of the most user-friendly vaporizers that I've ever encountered. All you need to do is follow four simple steps – swing the arm open, load the chamber with your cannabis concentrates, press the button five times repeatedly to turn on the device, and finally, press and hold the same button to take a draw. That's how easy it is!
You may struggle to get the atomizer to slide into place in the arm sometimes, but overall, it's not a big problem.
Pros
The unit is durable and very well built
It comes with an affordable price tag
The portability is outstanding
It is very easy to use
The Flip Door is a feature that you will hardly find in other similar solutions
Cons
The vapor quality is good but not consistent
Some people may not like the fact that they can't tweak the temperature manually
The same people may also struggle with the idea of having silicone splatter guards rather than pure glass
In conclusion
If you're looking for a functional, durable, and affordable vaporizer, Vivant Dabox is definitely the product for you. Even despite some obvious downsides, it's a product that both experienced individuals and newcomers alike will enjoy with equal passion.
If you've never owned a vaping device before, this is a good starting point. But even if you've owned dozens of them already, adding Vivant Dabox to your collection is a goal worth pursuing.