Whenever you see a vaping device with an Arizer label on it, you know that you aren't dealing with just any other typical product.
These folks manage to outperform themselves time and time again and they are rightfully one of the strongest brands in the vaping industry today. Arizer V Tower is, thus, yet another testament to their enormous dedication.
If you were satisfied with their Extreme Q vaporizer, you'll certainly love the Arizer V Tower as well. What we have here is a simpler, more refined version of its predecessor and a product that is easily one of the best stationary vaporizers that you can buy these days.
Still, does that mean that the product is perfect? No, of course not.
In this review, I cover both the strong points of this vaping unit and its downsides. By the end of it, you'll have sufficient information to decide whether the Arizer V Tower will be a worthwhile purchase for you.
Company overview
Arizer has quite a long tradition, and indeed, many successful products in their portfolio. The company was founded in Canada in 2005 and they've been innovation leaders ever since.
All of their products were built by using the latest cutting-edge technologies and with a strong focus on customer experience.
The company has set a very high bar in terms of quality. Every product has all the needed ISO Quality Standards and they're all FCC, ROHS, and CE certified. Needless to say, Arizer won numerous awards over the years and there is no sign of that trend changing anytime soon.
Technical specifications
| | |
| --- | --- |
| Chamber capacity: | 0.5 g |
| Delivery: | Whip |
| Battery Voltage: | 110 V |
| Heating Type: | Convection |
| Heat-up Time: | 120 seconds |
| Temperature Range: | 122°F – 500°F(50°C – 260°C) |
| Width: | 6.49" (16.5 cm) |
| Height: | 6.69"(17 cm) |
| Weight: | 428 g |
| Price: | Get it for $104.99 at Bloomgroove |
Unboxing Arizer V Tower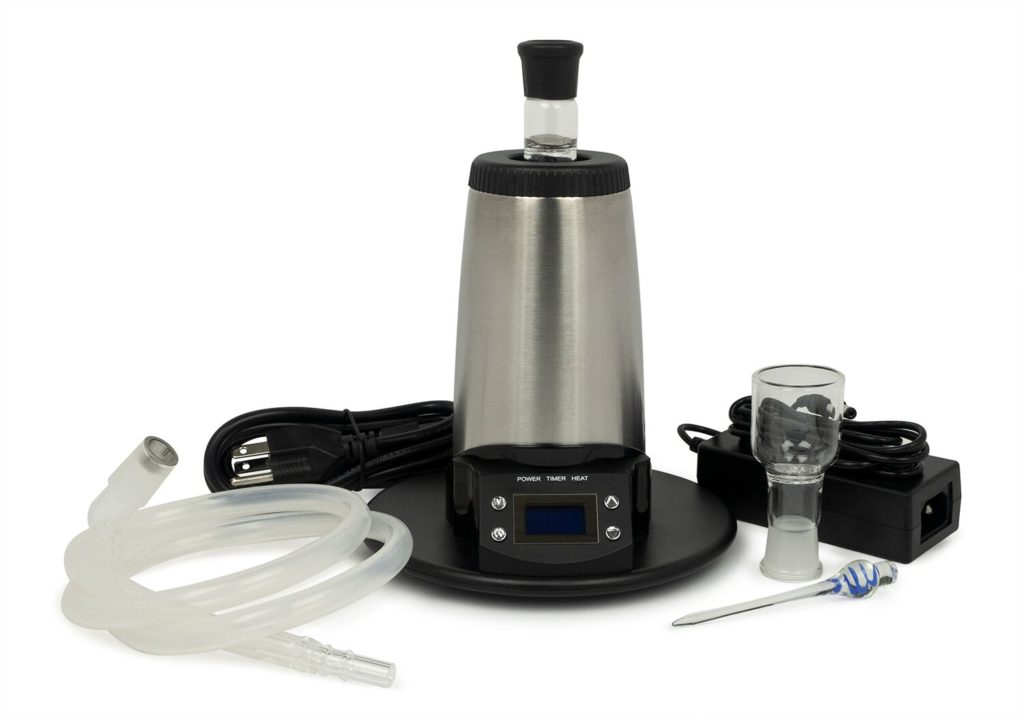 Here are the accessories that you will get upon unboxing Arizer V Tower:
One Multi-Purpose Heater
The Power Adapter
One Glass Cyclone Bowl
One Glass Aromatherapy Dish
The Glass Stirring Tool
The 3-inch Whip
One Additional Flat Screen
One Additional Dome Screen
A Sample Of Aromatic Botanicals
The User's Manual
Arizer V Tower Unit
All accessories that you need to run Arizer V Tower are already included in the box and you won't need to make any standalone purchases. The package also includes a spare flat screen as well as a spare dome screen if you ever need to replace the default solutions.
Design and features
As I've mentioned already, Arizer V Tower is a less complex version of Arizer Extreme Q vaporizer. Still, despite being a stripped-down version of its predecessor, it has a design that is unique in its own regard.
Arizer V Tower has a cylindrical body, and unlike Extreme Q, it's a whip-only vaping device. The body also has a stainless steel finish that gives the unit outstanding durability and a truly remarkable appearance. Arizer V Tower looks like a juicer that would fit your kitchen set up perfectly, but that's yet another element that makes the design so unique.
Overall, the whole unit is really well built, and if used appropriately, it should last for decades on end. Yes, that's how good the design is.
Temperature control
Arizer V Tower gives you full control over the heat levels. You can easily fine-tune your optimal temperature via the LCD display itself. The most important thing is that the performance is consistent regardless of what temperature level you are aiming for, so in the end, it all depends on your preferences. 122°F – 500°F is one of the highest ranges that you will find today and Arizer absolutely nailed it in that regard.
Automatic shut down feature
One of the key features that really stands out here is the automatic shut down feature. As the name suggests, the unit can be turned off automatically after a certain period. That way, even if you forget to turn off the vaporizer manually, the device will handle that part on its own. The unit can be shut down automatically after 2 or 4 hours of active usage. The choice is yours!
Heat up speed
Overall, the speed is fairly decent. It only takes about two minutes for the device to heat up, and trust me, you'll be ready to vape before you even notice. This is yet another area in which the company manages to set a new industry standard.
Vapor quality
How about vapor quality? Is it good or not? Thankfully, Arizer V Tower produces truly outstanding vapor. It comes as no surprise, though, as after all, it has the Arizer label on it.
The flavor you get is strong, consistent, and you won't see any reduction in quality even in exceptionally long vaping sessions. On top of that, you won't see any impurities here as the glass cyclone bowl and the elbow connector both ensure that your vapor is not contaminated. Magnificent!
Ease of use
Arizer V Tower is extremely easy to use and it has no learning curve. In fact, I would say that this is one of the simplest vaping units that I have reviewed so far. With minimal dedication, you'll grasp the basics in no time.
The first thing you need to do is load the herbs into the cyclone bowl. Next, make sure that the white end of your cyclone bowl is properly attached to the device and connect the tube adapter to the bowl. Now, turn on the device and choose your optimal temperature. That's it – as soon as the unit heats up, you are ready to vape. Simple, isn't it?
Cleaning and maintenance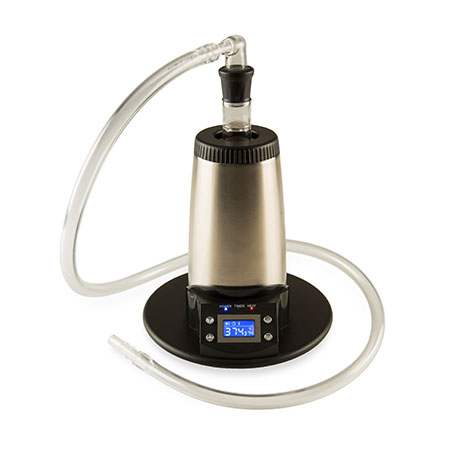 Unfortunately, the cleaning and maintenance part is a bit more tedious than it should be. You will need to disassemble the unit to clean the crucial parts (elbow adapter, mouthpiece, tube, and cyclone bowl) properly. Once the device is disassembled, make sure you soak each part in isopropyl alcohol for about 30 minutes. After that, you can remove any residue by rinsing those components with warm water. If some residues still persist, you can use a regular cotton swab (previously dipped into isopropyl alcohol) to remove them.
As I said, the whole procedure is not as easy as it should be, but if you know what you're doing, you'll be able to do it painlessly.
Additional accessories
Arizer V Tower has no room for additional accessories. The product comes pre-packed with all the accessories that you'll ever need to use the device. If you need to replace the default flat screen or the dome screen, you'll get spare alternatives in both cases.
Who should buy Arizer V Tower?
If quality and affordability are your biggest concerns, you should definitely give this vaporizer a try. Even though Arizer V Tower is a low-end product, it can easily outperform many high-end alternatives. With its sheer simplicity, great functionality, and a superb price-performance ratio, Arizer V Tower is one of the best stationary vaporizers for both experienced customers and newcomers alike.
Who shouldn't buy Arizer V Tower?
Despite being a great product overall, Arizer V Tower is not perfect. If you don't like long and tedious cleaning sessions, this might be a deal-breaker.
Moreover, I should also point out that the reach is quite subpar and the vital parts are fragile. Keep that in mind before deciding whether you should purchase Arizer V Tower.
Pros
The product has an outstanding price-performance ratio
It comes without a steep learning curve
The unit produces outstanding quality vapor
It has outstanding durability
The device has optimal heat-up time
Cons
Cleaning and maintenance are quite tedious
The vital components of the vaporizer are very fragile
The overall reach is subpar
In conclusion
Arizer V Tower is a very worthy investment that will pay off in numerous ways. For a relatively small price, you're getting one of the most functional vaping devices on the market, a durable product that should serve you well for decades. On top of that, the vapor quality is magnificent.
What more can you ask for?