Making a high-quality portable vaporizer is harder than you may think.
In the past, when a unit was portable, that usually meant that the performance was subpar. Luckily, Boundless managed to change that.
Their Boundless CFX model was one of the best vaping devices upon release and it was one of the best performers on the market.
Its successor, Boundless CFV pushed the limits even further with a more convenient design and the performance that was upgraded in almost every regard. So, if you were satisfied with the Boundless CFX, you will definitely love its successor.
Technical specifications
| | |
| --- | --- |
| Chamber Capacity: | 0.15 g |
| Delivery Method: | Direct Draw |
| Battery Type: | 18350 |
| Charging Time: | 2.5 hours |
| Battery Capacity: | 1700 mAh |
| Battery Life: | 40 minutes |
| Voltage: | 110 V |
| Heat-up Time: | 30 seconds |
| Heating Type: | Convection |
| Temperature Range: | 140°F – 446°F (60°C – 230°C) |
| Width: | 2.36" (6 cm) |
| Height: | 3.93" (10 cm) |
| Weight: | 226 g |
| Price: | Get it for $149.99 at Bloomgroove |
Unboxing Boundless CFV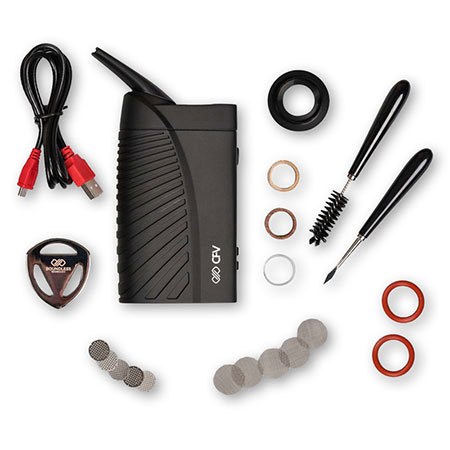 Here's what you can expect to get upon unboxing Boundless CFV:
Five stainless steel screens
Five stainless steel chambers
One packing tool
A cleaning brush
A USB charging cable
One water pipe adapter
One Boundless adapter CFV vaping unit
In short, you are getting everything you need and you won't have to purchase any standalone accessories, which is certainly great.
Design and features
In terms of design, Boundless CFV is not extraordinary. What we have here is a pretty standard design, but it does offer a lot of useful features.
What I like the most about it is that the mouthpiece can fold away even when you're not using the vaporizer, unlike with some more sturdy vape alternatives.
The body itself is durable and well-constructed. The unit is easy to use and the controls are very responsive. The display screen shows all the information about the vaping sessions. It can also be customized to fit everyone's individual preferences, which is another plus in my book.
Power supply
This vaping unit uses the convection method to vaporize the herbs and it does a pretty good job at keeping the heating levels within the optimal range.
The only caveat is that you need to make faster draws if you want to ensure that the chamber doesn't overheat. You may need some practice beforehand.
The unit comes with two standard 1835 batteries that are not replaceable but can be recharged whenever the power is too low. To charge up the device, you can use a regular USB cable.
The process takes 2.5 hours on average, and once the unit is fully charged, it should serve you well for at least 10 vaping sessions, which is great.
Heating
In terms of temperature flexibility, Boundless CFV has a lot to offer. The unit comes with a decent temperature range that allows anyone to find their optimal heating level.
You can adjust these levels with just two buttons! You'll always know where you are and where you need to go as the display will keep you updated.
I also have to add that the heating chamber is equipped with three interchangeable rings that are specially designed to prevent overheating and improve the overall flavor.
On top of that, CFV also comes with an auto-shutdown feature that makes the device go into standby mode in every four minutes. A very useful function.
Portability
Boundless CFV is one of the most portable vaping units on the market today. In fact, I would say that portability is the biggest highlight of this product.
You can easily carry it around in both your pocket and backpack. It can even fit in your wallet, which makes it a perfect vaping unit for people who get around a lot.
The best thing is, this high portability won't compromise the vaporizer's performance.
Vapor quality
And now we've come to the main question – is vapor quality that Boundless CFV provides good enough? A short answer would be – yes, absolutely. But let's elaborate on that.
The flavor is much better than anything that other similar mid-priced vaping units have to provide and it can even outperform some high-end models.
There is some uniqueness here that just makes me want to keep on vaping for a really long time. I don't get the same sensation with most other vaporizers.
Ease of use
The design suggests that Boundless CFV is not easy to use, but that's not the case.
Just put the herbs right into the chamber, turn on the device (you can do that by pressing the power button five times repeatedly) and choose your optimal temperature with the two selector buttons.
Once you've chosen the temperature, the unit will start heating up, and after 30 seconds, you will be ready to vape. Simple, isn't it?
Pros
Boundless CFV is one of the best mid-priced vaporizers on the market.
It's very easy to use.
The vapor quality is absolutely top-notch.
Boundless CFV is also one of the most portable units that you can get nowadays
The heat-up time is outstanding.
Cons
Battery life could've been better.
The batteries are not replaceable.
As the bowl is very small, this is not an ideal vaporizer for group settings.
In conclusion
If you can get over some of the unit's obvious downsides, Boundless CFV is a worthwhile investment. With an impressive vapor quality, superb portability, and outstanding overall functionality, this is the product that I recommend to everyone.
No matter if you're a newcomer or an experienced customer, you will undoubtedly have a real blast with Boundless CFV.