Are you thinking about making some amazing edibles for your Christmas party? That way you can make this holiday even greener.
As it's a time of laughter and joy, what better way to make people smile than mixing some holiday sweets and cannabis?
In this article, we will show you how to make some THC-infused edibles for your Christmas table.
So, without further ado, here are 5 easy recipes that will definitely make any stoner's Christmas party livelier.
Tips before you start cooking
This is the first step in all the edibles recipes, unless you are using ready-made tinctures or concentrates.
The key is to decarboxylate your weed first.
What does it mean? Well, basically it means that you have to bake your weed first, before using it in any recipe.
Decarboxylation happens very slowly when cannabis is fresh. You can either use your oven to do it, or leave it all to a decarboxylation machine that will do the whole job for you.
When you decarb your cannabis, the process basically converts the THCA found in your dried herb to the psychoactive THC.
This will make your edibles more potent and you will feel the effects quickly.
The process is simple. Just grind your herb, put in all over your baking sheet, and bake it in the oven for about 30 minutes.
Now, let's get back to the recipes.
Five Awesome Christmas edibles recipes
Cannabis snowball Xmas cookie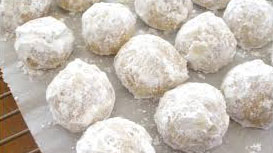 Let's start with something you all know very well, and it is a holiday must.
This Christmas recipe is a traditional one, but we are going to make it a bit better by adding our favorite plant.
You will need:
½ cup of butter
½ cup of cannabutter
½ cup of powdered sugar
1 teaspoon of vanilla extract
2 ½ cup of flour
¾ cup of nuts of your choice
and more powdered sugar for rolling the snowballs in
Instructions:
First, you have to heat up your oven to 400 degrees Fahrenheit (around 200 degrees Celsius).
Now, mix the regular butter with cannabutter along with the ½ cup of powdered sugar and vanilla extract.
Then mix the flour with nuts in a separate bowl, until mixture forms a dough.
Gradually mix the sweetened butter and dough.
Shape the dough into small balls and set them for about an hour on a baking sheet.
Once your oven is heated enough, bake the cookies for 10-12 minutes.
Remove them from the baking sheet and place them on a wire rack to let them cool down.
Roll your cookies in powdered sugar and set them aside to rest.
That is it! It's pretty simple, yet delicious and, most importantly, canna-filled.
Cannabis-infused eggnog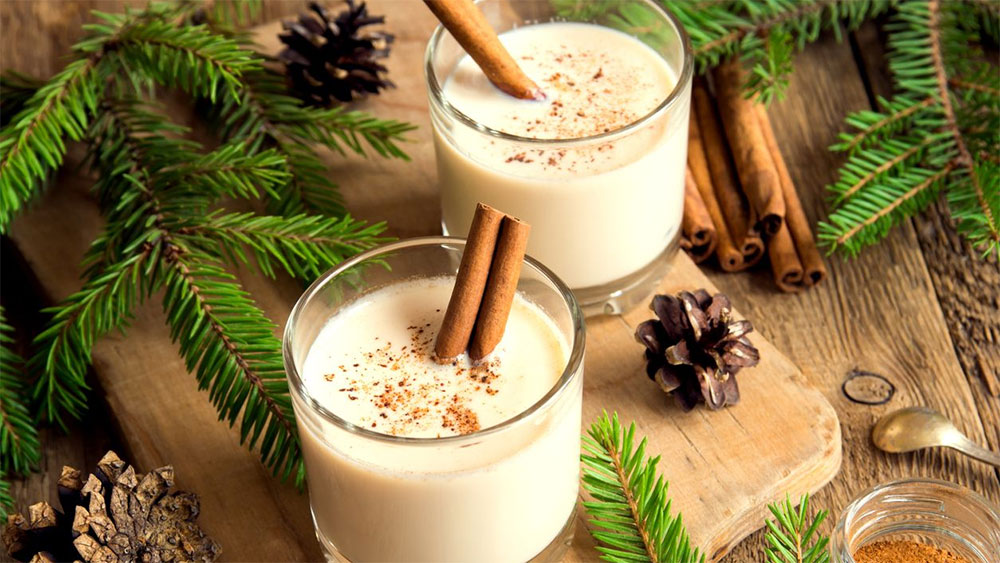 When you say "Christmas drink", the first that pops to your mind in eggnog, right?
Well, here is an easy recipe for this holiday drink, with one special ingredient, kief.
Kief is a marijuana concentrate that is made from cannabis bud flowers.
Before we get to the recipe, keep in mind that the dosage we are using is for experienced marijuana users. If you are a beginner, use a smaller dose.
Ingredients:
1 cup of whole milk
1 cup of whipping cream
2 ounces of bourbon
3 egg yolks
1 gram of kief (for beginners half a gram)
½ cup of sugar
½ teaspoon of nutmeg
1 teaspoon of vanilla extract
salt to taste
Instructions:
Preheat the oven to 250 degrees F, and then decarboxylate your weed for about half an hour.
Now prepare a double boiler filled halfway with water.
Add all of the ingredients to the mixing bowl and mix them together until they are nice and creamy.
Do all of this on top of the double boiler for about 10 minutes and then set aside to rest.
Now pour your eggnog in glass bottles of your choice, and put them in the refrigerator, until it's time to serve it.
This is a really wonderful winter drink, and it can only get better with the sweet kief inside.
THC-infused Christmas punch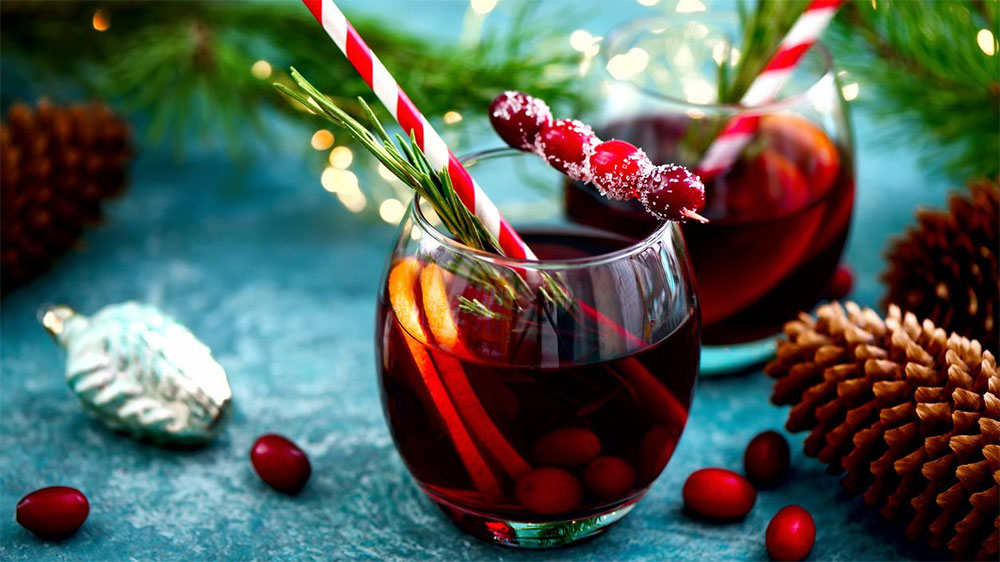 Let's continue with weed drinks a bit more, since they are so yummy.
This drink is a must at any Christmas party, and we are going to boost it with a THC tincture inside.
For those of you who still don't know what tincture is – it is a concentrate of marijuana that contains all of the cannabinoids inside of some high proof alcohol (could be vodka or whiskey).
Ingredients:
2 large oranges
2 bottles of sparkling wine, extra dry
5 cups of cranberry juice
2 cups of apple cider
2 cups of ginger ale
1 cup of fresh cranberries
½ cup of cannabis tincture
1 bag of ice cubes
Instructions:
You start off by slicing the oranges as thin as possible and then mix them with fresh cranberries in a mixing bowl.
Pour the bag of ice over the fruit and gently mix them all together.
Now add all the remaining liquid including the cannabis tincture and stir it together.
And that is it! Your sparkling punch is ready to be served! Enjoy.

Hot chocolate on a stick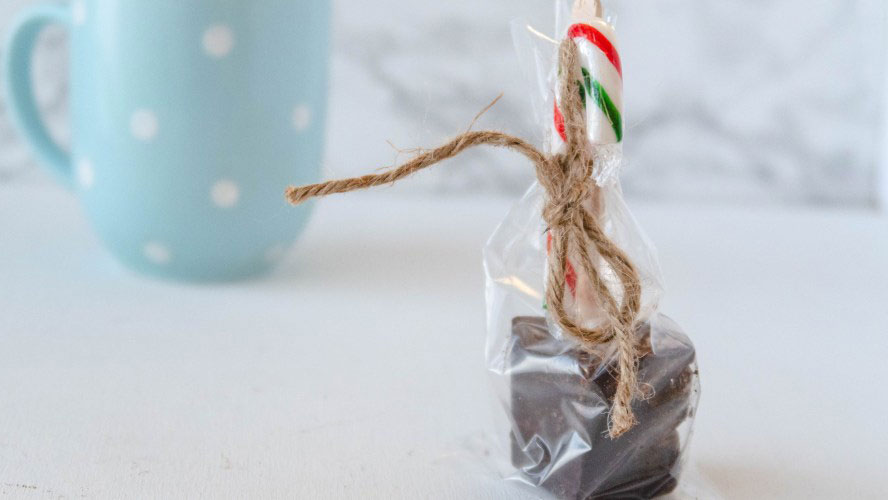 This infused hot chocolate on a stick is a perfect holiday treat, especially since it's vegan, gluten-free and adorable.
We are going to use some THC infused oil for this recipe, and you can use any oil you have (vegetable, canola, or coconut).
Ingredients:
450 grams of melted chocolate of your choice (dark chocolate is always a better option)
50 grams (¼ cup) of cannabis-infused oil
1 cup of powdered sugar
½ cup of cocoa powder
Instructions:
Step one is to mix the melted chocolate and the infused oil.
Add the powdered sugar into the mix along with cocoa powder.
Mix it all together with a spatula, until it's nice and thick.
Pour mixture into the molds of your choice (we are using cube molds because they're easier to melt later on).
Stick the popsicle stick in each cube and let it sit for about 45 minutes.
The last step is to remove your cubes from the mold and store them on a serving plate, and voila, they are ready to use.
You can put some sprinkles on top, or sea salt. Feel free to play around with the decoration of your sweet chocolate on a stick.
When your guests arrive, serve them the sticks with hot milk, and watch how they melt into sweet magical Christmas drinks.
After you drink it, you'll melt from all that sweetness, too!
Cannabis marshmallows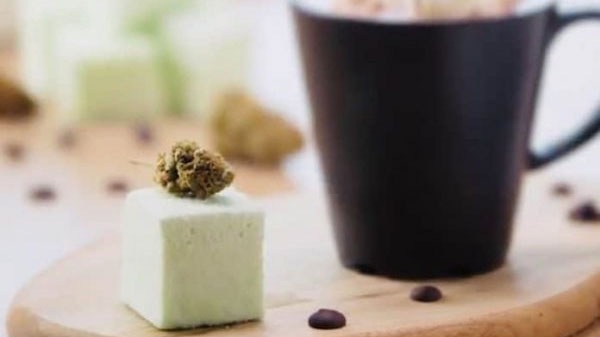 We saved the best one for the end.
What better way to incorporate weed and sweets than marshmallows? It's a classic.
You may be amazed at how easy it is to make them, and how tasty they actually are.
Just keep in mind, these are not any ordinary marshmallows that you will be roasting on fire.
Start by infusing some butter with your favorite strain of weed, or simply use cannabutter.
You will need only 2 tablespoons of butter.
The rest of the ingredients:
2 tablespoons of gelatin
1 cup of water
2 cups of powdered sugar
1 teaspoon of vanilla extract
Instructions:
For starters, put the gelatine in half a cup of water. Put the other half a cup of water n a saucepan and add 2 cups of powdered sugar.
When the sugar melts, raise the temperature until the syrup starts to boil.
After that, remove the pan from the heat.
Add vanilla extract to your sugar syrup and mix everything with your cannabis-infused butter.
Stir all the ingredients with a whisk until your mixture is fluffy – a creamy marshmallow heaven.
The stirring process can take up to 20 minutes if you are doing it by hand, so you might as well use a blender instead.
Whatever option you choose, make sure you don't stop mixing until it's extremely fluffy.
Now, you have your marshmallow mixture ready to be shaped as you please.
Pour the mixture on a cutting board, and add some powdered sugar. This will stop the mixture from sticking until it cools down.
Use a cookie cutter to cut out the shapes and sizes as you like them.
You may also add some sprinkles or decorations of your choice.
These heavenly marshmallows are a great addition to any cake or hot chocolate.
Enjoy your Christmas responsibly!
So, we gave you a few different recipes for an awesome Christmas dinner.
Just keep this in mind when dealing with edibles: They are more potent than smoking. They take some time to kick in, but when they do, the effect is really strong.
That is why you need to take some time with them until you figure out what dosage suits you best. Don't overeat.
Be extra careful with drinks that are cannabis-infused, especially if they contain alcohol.
The goal is to have fun, to be happy and all smiles, not to doze off.
Most of all, enjoy getting creative with these recipes. Give them your own twist, surprise yourself!
The holidays should be all about the positive spirit and joy, a bit more pronounced with the help of homemade THC goodies. 😉