"Why feel bad about making ourselves feel good? It's high time we celebrated pleasure for pleasure's sake."
This reads the description of a poster for an interactive cannabis installation, inviting visitors to "look around, smell, touch everything."
"You're allowed."
This installation, located in the Toronto stop of 29 Rooms (a large installation project presented by female-focused lifestyle publication Refinery 29), was designed in partnership with women-centered cannabis lifestyle brand Van der Pop.
On display were a series of artistic sculptures meant to represent different cannabis terpenes, and a line up for a group-led joint rolling workshop – situated on a makeshift lounge with various cozy cushions and a couch surrounding two wooden coffee tables.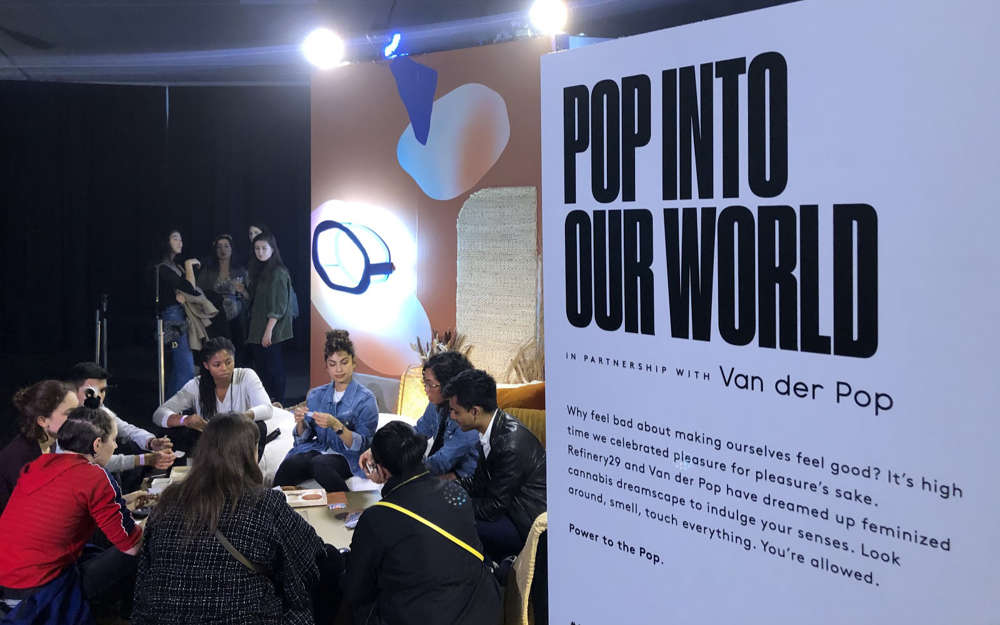 Midway through the workshop – after licking the paper and rolling it into a clean cone – the instructors told everyone to "take a moment to just acknowledge how far we've come, and feel good about our progress."
This display, with it's inviting language and accessible group setting are clear examples of how companies understand the complex barriers that have historically kept many women from experimenting with cannabis.
A 2017 survey entitled "women and weed", conducted by Van der Pop, asked 1,500 women across Canada and the U.S. about their thoughts and habits towards the drug.
Seventy percent responded that they felt consumption carries a stigma, leading many of them to hide their usage.
They also found that legalization in Canada wasn't enough to encourage women to try it out, which matches Statistics Canada's data showing that women have been adopting cannabis at half the rate of men since legalization took place in the fall of 2018.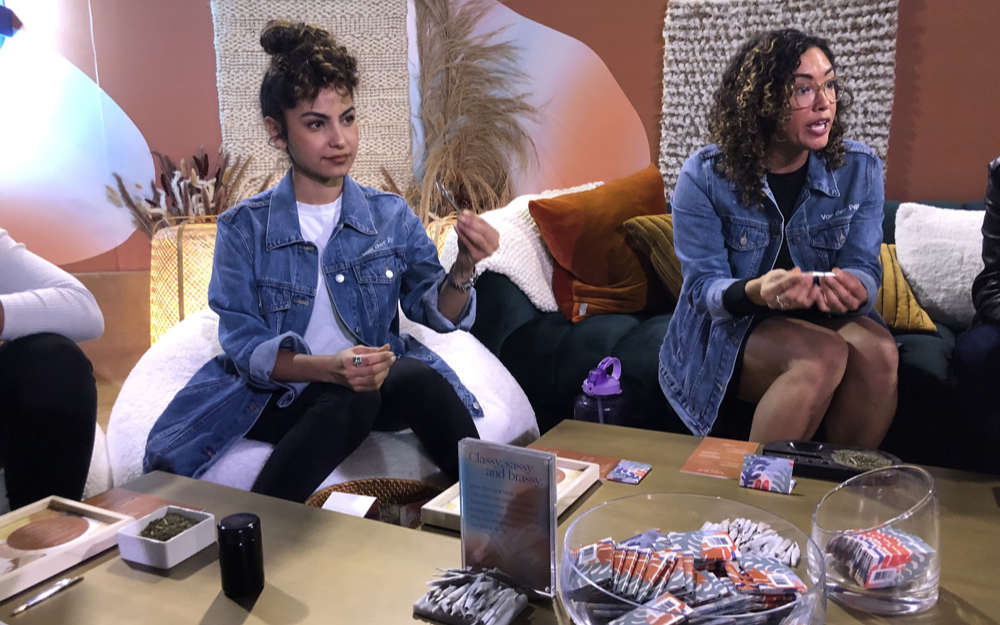 The desire to reach the untapped women's market makes sense, given that women control the majority of household purchases, and single women over age 45 in the U.S. spend $400 on drugs and $640 on personal care items per year, according to the US Consumer Expenditure Survey.
And there's a potential to rapidly expand this market to cannabis products. Sales and research data from U.S. delivery platform Eaze showed their number of female cannabis consumers doubled in 2018, whereas the men's market grew at half that rate.
Following this trend, women are on track to become half of the cannabis market by 2022.
So how should Canadian companies go about reaching this market? Along with legalization 2.0 comes the ability to make discreet and non-smoking alternatives: edibles, concentrates, topicals, and beverages – all things more familiar to many women and less stigmatized than burning flower.
Van der Pop's survey also showed that 70 percent of respondents feel recommendations from friends are a key part of any purchasing decision.
Cannabis analytics company Headset's spring 2019 study showed that women are twice as likely as men to be given cannabis by a friend or family member.
And when it comes to purchasing, women will pay 50 percent more for products that have undergone testing.
Fostering personal relationships, authenticity, and trust — these are all key to consider when overcoming the barriers to reaching women.
Counter "stoner" culture
"If you told me 6 years ago that I was going to be a founder of a big company that gets to go legal in the first cannabis 2.0 [legalization] of Canada, I would have laughed at you," says Angelina Blessed, founder of Toronto-based Cannabis brand, Blessed.
"I wasn't even smoking weed six years ago."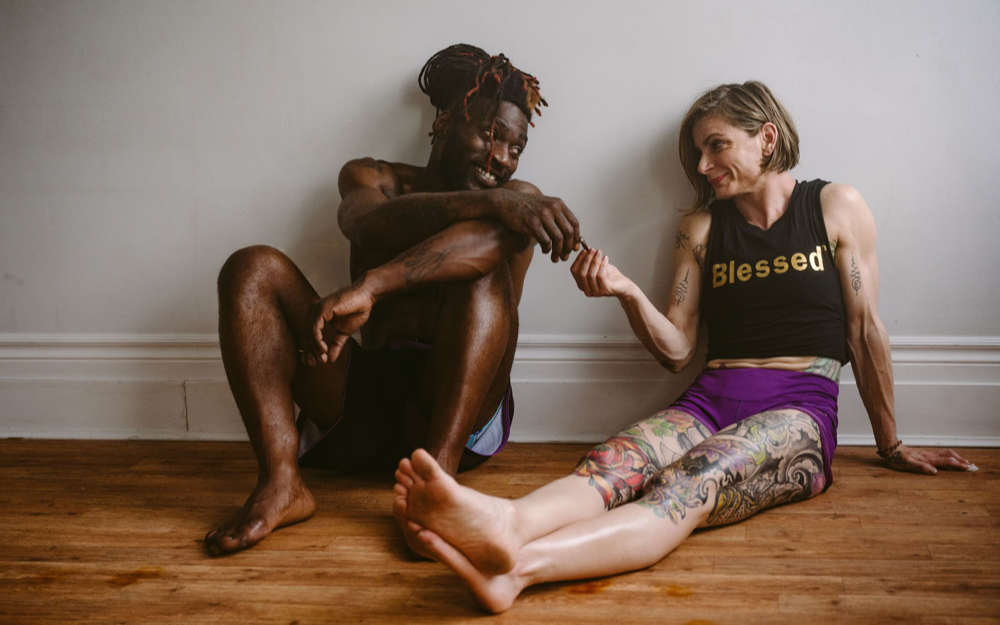 Blessed, a practicing Muay Thai fighter in Thailand for over a decade, started using cannabis after getting a heavy concussion while fighting in China.
She was tired of using opiates and sleeping aids prescribed by her doctor to treat her injuries, as they often made her feel groggy and sore in the mornings.
So she started with cannabis oils and edibles, along with sensory deprivation floating, to successfully treat her injuries in a way that also dealt with the mental and physical challenges of recovery.
It wasn't long until she started selling edibles illegally in what she, in a more respectful manner, calls the "legacy market."
Customers started flocking to Blessed, who noticed that a large portion of her customers were women with a preference for her artisanal edibles.
"We aren't doctors, and I never understood why people came to me for answers," said Blessed.
"But people see me as someone who isn't a typical stoner, and for some reason trusted us on their path."
This trust, and along with her "image", played a big role in allowing her to make the transition out of the legacy market.
"They were like 'hey, you're a female, and you're older, and you've got a great story, and you're an athlete, and you eat really well, and you're not a stoner'". I was checking off all the boxes of what people were looking for," she said, explaining her appeal to investors.
"Only a couple of us have made it. I only know 3 legacy brands that were able to go full steam ahead into the legal market," said Blessed, who said that finding backing is crucial for getting access to the government facilities and millions of dollars in financial backing needed to operate legally in Canada.
"It's a new day for cannabis," she said. "It's not the Tommy Chong days anymore."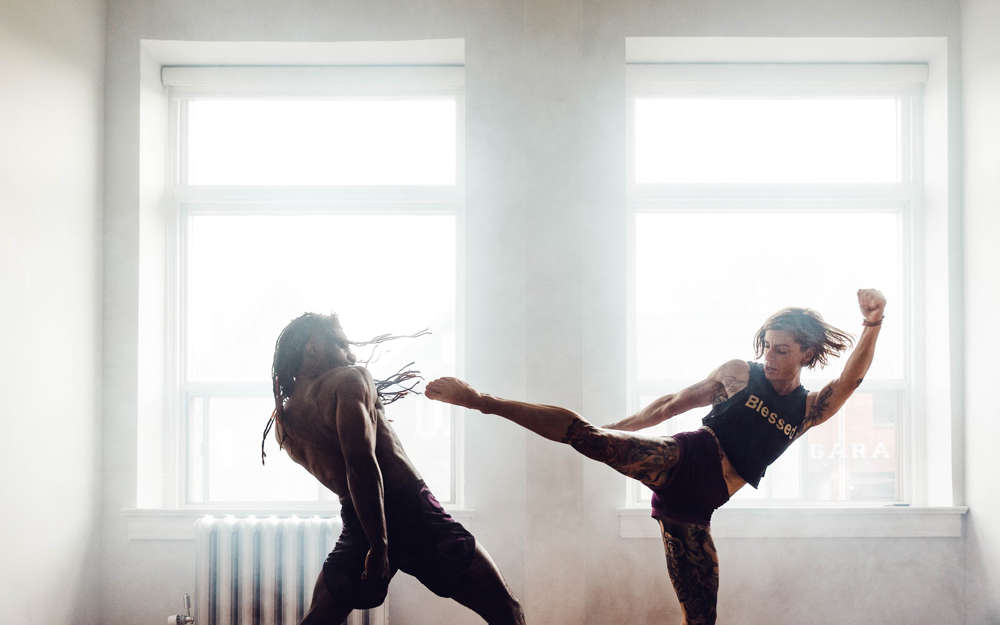 Wellness and weed
"With combustible (cannabis), there's so much stigma associated with the traditional stoner stereotype," said Emma Andrews, Chief Commercialization Officer for BevCanna, an infused cannabis beverages company.
Andrews' research shows CBD products are likely the best way to reach the untapped women's market.
"What appears again and again are that cannabinoids are a little bit gendered," she said. While she regrets using gender biases for her consumer insights, she can't ignore how much better CBD products perform with a female demographic, due to its non-psychoactive effects.
"It has a lot less stigma around it, a lot less connotation around intoxication, which makes it a much more approachable cannabinoid," she said.
Cannabis legalization 2.0 products will be "more congruent with other natural health products and wellness products, that are being consumed predominantly by a female driven market," said Andrews.
A survey conducted by MyJane, a California-based online cannabis wellness community, showed that cannabis is used by women primarily for sleep, while Heatset's survey data showed that the U.S. women's market has clear preferences for wellness products such as edibles, topicals, tinctures, and sublinguals over concentrates.
Their most popular products with women were the Humboldt Apothecary 3:1 Calm CBD Tincture, and Papa and Barkley's 3:1 Releaf Balm, both products marketed for healing and calming effects. This is no surprise, considering the higher levels of chronic stress found in women.
Historically speaking, cannabis has been used with women's health for a number of issues, beyond stress. This includes PMS, menopause, and menstrual cramps.
Women have been using cannabis since ancient Egypt. There are records of women using cannabis for help with childbirth in Ancient Egyptian medicine, where it was "ground into honey" and "introduced into her vagina."
In India during 700 AD, Cannabis was used by women for a different reason – namely as part of tantric sex and yoga practices.
This is not surprising, given how the Journal of Sexual Medicine found that female subjects using cannabis prior to having sex reported having a better overall sexual experience and increased sex drive.
Cannabis 2.0: The second coming
"You know what it does to women? They just keep on orgasming," said Angela Mustone, founder of Montreal based HighOnLove, a company that creates a variety of hemp and THC infused sensual products.
After being in the adult and beauty industry for over 20 years, Mustone's curiosity with the cannabis craze led her to ask their in-house chemist to experiment with developing CBD lubricants.
After trying it on herself, she deemed it the "holy grail of sexual stimulants."
She felt the next step was to rid cannabis of its stigma, similar to what she saw in the adult sex toy industry.
"Years ago, the whole sex industry was so seedy, they didn't attract women, but women spend money," she explained. "Now, most of the sex shops you walk into are couples-oriented, and a nice shopping experience for women."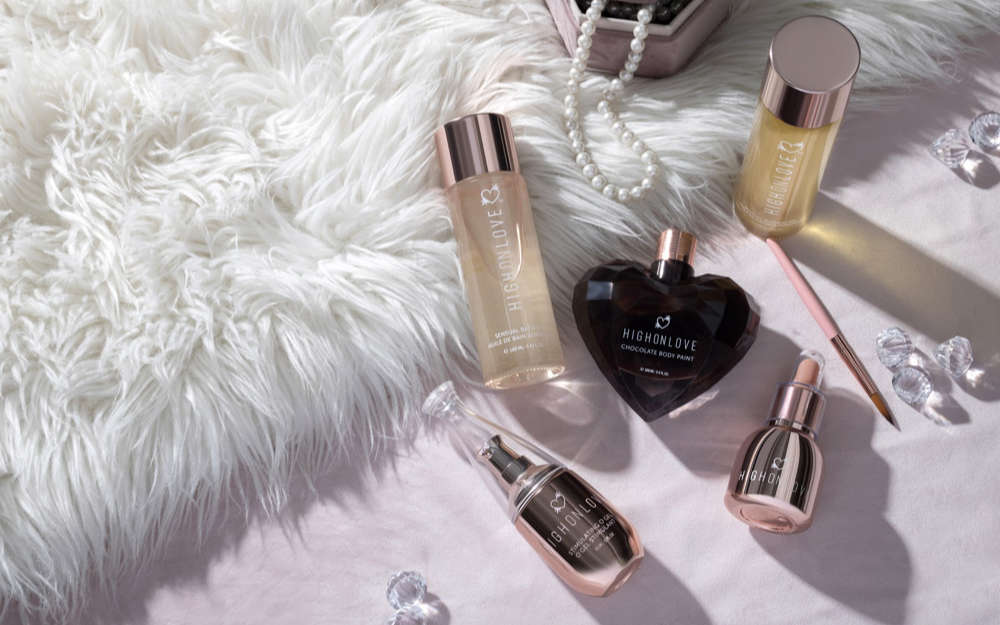 Mustone, who is in talks with an undisclosed partner to bring her products into the legal market, said that her background in the beauty and sex market has given her a competitive edge.
While working for the pleasure-product business Calexotics, their founder Susan Colvingave mentored her on how to reach a hesitant female audience. Mustone's been able to get HighonLove in front of her target audience on the Shopping Channel, and focused heavily on having attractive packaging.
"Women want something that's made by a woman who listens to them,' she said. "It's friendly, inviting, and it appeals directly to women."
However, due to Canada's marketing and packaging regulations, the same can't be said for her THC or CBD infused products.
Plain Mary Jane packaging
"I can't make it pretty, I can't have metallic colouring, I can't have that whole look and feel about the experience." she said, explaining that Health Canada's packaging criteria requires her products to be in a plain dropper, with childproof yellow packaging.
She said these restrictions will make it difficult to tackle the stigma in the women's market towards both cannabis and sexual products.
Angelina Blessed agreed that the packaging and retail restrictions would limit her legal product roll out, saying that half of the products planned to launch on her website won't be able to make it to the 2.0 market.
There are no fridges allowed in legal cannabis retail stores, making it hard to sell some of her most popular products.
"Everything that I make right now, there's no preservatives, so my cookies would only be really good on the counter for two days."
Packaging and retail restrictions also limit the ability of companies to make many claims, specifically around wellness outcomes. Therefore, Emma Andrews says she's doubtful that the wellness 2.0 market will take off in Canada the same way it has in parts of the U.S., where regulations are less stringent.
For people like her mother, who now uses cannabis topicals, she would not have gone about trying these wellness products without her encouragement.
"There really does require self-directed education, whether it's through talking amongst their network and social circles, or getting recommendations and referrals from other trusted health influencers in their lives." she said.
"They have to be genuinely more curious to seek out the information to help guide their decision making journey."
So while cannabis wellness products will begin flooding the Canadian market, don't expect them to be advertised like wellness products.
In the meantime, companies will have to resort to offering hesitant customers some encouraging words and the permission to just give it a try.