Evolve Plus XL is one of the latest vaporizers from Yocan and it's not just an upgraded version of the original Evolve Plus but a brand new product.
Yocan is a well-known name in this market and they know how to implement the latest cutting-edge concepts while making their products affordable to everyone. Evolve Plus XL is no exception.
Now whether Yocan Evolve Plus XL is an ideal product for you personally depends on many different factors. In this review, I'll try to cover everything you need to know so that you can make your choice right here on the spot.
Company Overview
Yocan is a Chinese company based in Shenzhen. It's a well-known name and one of the strongest brands in the vaping industry today.
Top-notch vaporizers used to be a privilege that only a small group of people could afford, but thanks to Yocan, that is no longer the case. The company decided to take a different approach and quickly became a household name for exceptional vaping units.
Throughout its rich history, Yocan produced a whole range of different products – from dry herb vaporizers and dab pens to e-nails.
The company revolutionized the industry with its Evolve vaporizer. The product was rated as one of the best dab pens ever made and it was also the first dab pen that came with a functional coil cap. Later on, they improved upon most of its downsides and pushed the quality limit even further with their new Evolve Plus vaporizer.
But even that wasn't enough. With the Yocan Evolve Plus XL, the company re-establishes what a true high-quality vaporizer really is. Furthermore, it also re-establishes what it means to produce an accessible product.
How good Yocan Evolve Plus XL is for each individual buyer depends on their preferences. But the company has undoubtedly made a product that will easily stand the test of time. From a buyer's perspective, that's all you need to know right now. I will cover all the other details in the lines below.
Technical Specifications
Compatibility: Solid concentrate
Battery capacity: 1400 mAh
Heating type: Conduction
Heat-up time: 3 seconds
Charging time: 1-2 hours
Build material: Metal
Width: 0.86" (2.2 cm)
Height: 4.52"(11.5 cm)
Weight: 165 g
Color: Black, Silver, White, Rose Gold, Champagne Gold
Price: Get it for $59.99 at Bloomgroove
Unboxing Yocan Evolve Plus XL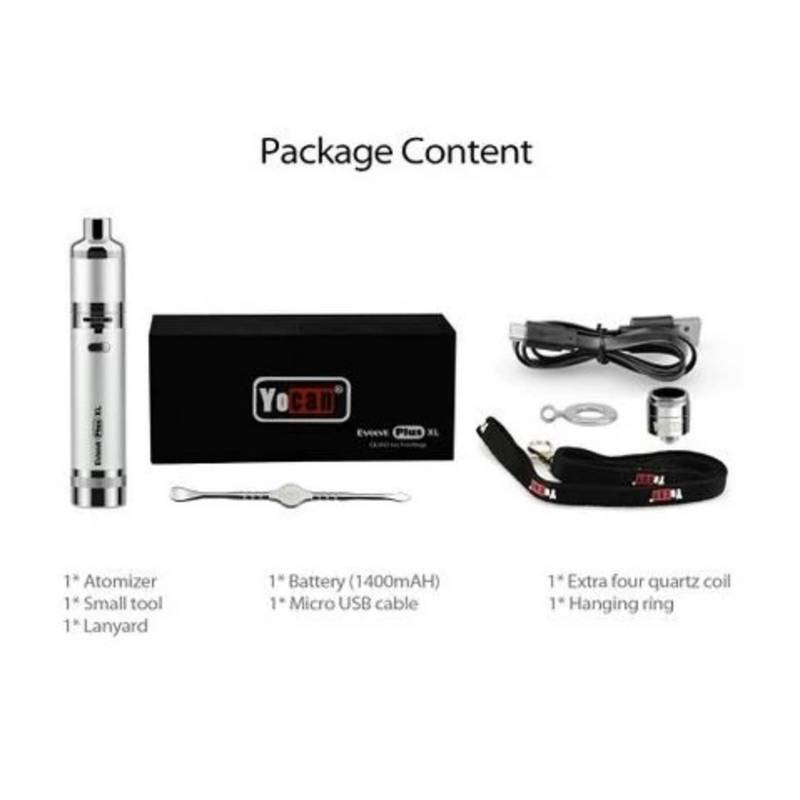 Yocan Evolve Plus XL comes in a beautiful cardboard box of the highest quality. The box contains all the accessories that you will ever need for a smooth vaping session.
Here's what you will get in the package:
One Loading Tool
Yocan Evolve Plus XL Attachment
One 1400 mAh Battery
Two QUAD Quartz Elements
One Lanyard
One Removable Hanging Ring
Micro USB Charging Cable
Yocan Evolve Plus XL vaporizer
Design and Features
From a visual standpoint, Yocan Evolve XL Plus looks great. There are better-looking vaporizers on the market, sure, but for this price, Yocan Evolve Plus XL is one of the best offers that you can find. The overall feel of the product is also good and this is certainly one of its strongest selling points.
Some design choices could've been better, though. The biggest issue for me personally is that the product is not compact enough. It's bigger than many similar vaporizers and it doesn't easily fit into every pocket. If you want to carry Yocan Evolve Plus XL while traveling, you need to have this fact in mind.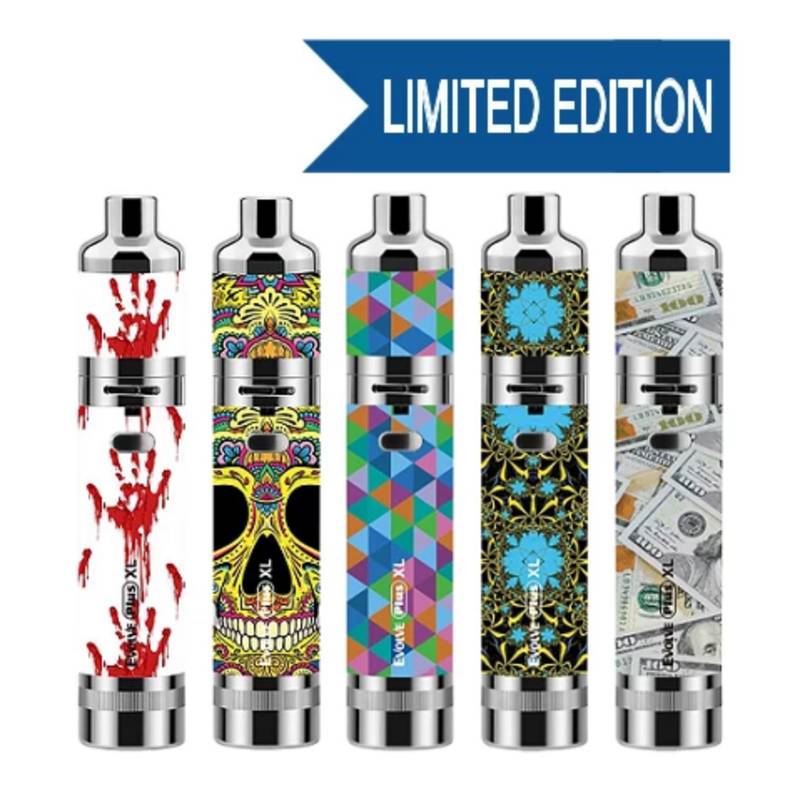 Another thing that some people may dislike is the quad-core concept. Although it brings many advantages to the table, it also makes loading very time-consuming. In an era where time is everyone's most important resource, it's not strange that, for some customers, this will be a deal-breaker.
Still, even despite some obvious drawbacks, Yocan did a great job with the overall design of the product. It's a vaporizer that looks and feels great, and it certainly provides a solid base for enjoyable vaping sessions.
Airflow
The most important thing to consider when looking at the features of a particular vaporizer is whether the airflow is good or not. In this case, I can safely say that Yocan did a splendid job.
Yocan Evolve Plus XL comes with an airflow that you can modify according to your preferences. You can easily minimize the amount of air that gets in and this will make your vapes much more enjoyable. If you want an even better experience, make sure you draw slowly so that the unit has enough time to heat up properly and absorb the herbs.
The more efficiently you regulate the airflow, the more enjoyable your vaping sessions will be. Always keep that in mind.
Magnetic connections
If there's one cutting-feature that really stands out here, it would certainly be this one. Yocan Evolve Plus XL uses magnetic couplings to make sure that both tube and base are connected with precision and style. Thanks to this addition, the loading has never been easier. All you need to do is pull the mouthpiece, unscrew the coil cap, and voila!
Detachable jar
Another standout feature of Yocan Evolve Plus XL is a detachable silicone jar at the very bottom. This addition allows you to store all of your herbs safely and conveniently. The best thing about it is that it's extremely easy to clean and maintain, so you can use it as many times as you like.
Quad Quartz Coil Technology
As I've mentioned above, the quad quartz core atomizer is certainly one of the biggest additions that Yocan Evolve Plus XL has to offer.
This technology allows you to make exceptionally big clouds. Since the airflow is fully customizable, you can also make your hits whenever you want. The surface area is four times bigger than what you would expect from other similar solutions so you can be sure that your vaping experience will truly be a memorable one.
All these advantages come with a cost, though. The quad quartz coil concept will make the loading much more time consuming, and if you're in any kind of urgency, this will be a problem. Still, if you can cope with this downside, you'll realize how powerful quad quartz coil technology can be.
Temperature flexibility
Unfortunately, there's no flexibility here at all, but that's not necessarily a bad thing. You can turn the power on and off, and the temperature will be regulated automatically. Some people prefer vaporizers that allow them to regulate the temperature manually, but I personally like the convenience that Yocan Evolve XL Plus gave us here.
Vapor Quality
I can say that the vapor quality is pretty good, especially for such an inexpensive product. The vapor has plenty of density and depth while the flavor is top-notch from the very beginning. This effect can last for quite a while and that's certainly great news for everyone who enjoys long vaping sessions.
To get the most out of your vapor, however, you'll need to focus on the loading (once again). This part needs to be done perfectly, as otherwise, you'll have a vapor with an awful taste that will stick around for a while. That's a scenario that we want to avoid. Luckily, there's a little shortcut that we can use to achieve this more easily.
As long as every coil is filled with an equal amount, you should have no issues with the vapor at all. As an additional safeguard, make sure you always start drawing as soon as you turn on the vaporizer. This will ensure that your Yocan Evolve XL Plus always has vapor of the highest quality.
Ease of Use
Just like every other vaporizer from Yocan, Evolve Plus XL is fairly easy to use and it comes with no real learning curve.
The first thing you need to do before starting up your Yocan Evolve Plus XL is ensure that the vaporizer is fully charged. If the unit is not ready, plug it into the micro USB charger that you got with the product and wait for the LED indicator to switch off before you turn it on again.
It takes about 2 hours to charge the vaporizer so you won't have to spend a lot of time waiting. Don't overcharge the unit as that will greatly ruin the life expectancy of your battery. As soon as the red LED light goes off, unplug the vaporizer.
Next, press the power button five times repeatedly to turn on your Yocan Evolve Plus XL. After you remove the mouthpiece and open the heating chamber, use the loading tool to set up the herbs around each coil appropriately.
As I've mentioned above, make sure that the amount of your herbs around all four coils is even as this is the only way to ensure that vapor quality is consistent. Once you've loaded everything, you can close the chamber.
Now you can finally start vaping! Press and hold the power button for a couple of seconds and everything will be heated automatically. As a result, you'll get a superb vapor that will stick with you for a while. Once you are done vaping, press the power button five times repeatedly to turn off the vaporizer.
Cleaning and Maintenance
Cleaning and maintenance of Yocan Evolve Plus XL are very simple and straightforward. It also gives you a lot of flexibility. As long as you clean the vaporizer at least once every day, you can rest assured that the product will last for years, even decades (in the best case scenario).
I recommend using isopropyl alcohol to ensure that no residues are left behind. At the same time, I also advise changing the atomizers every month to boost the product's longevity even more.
Additional Accessories
You can't extend the initial functionality of Yocan Evolve Plus XL with additional accessories, but you can always get a new ceramic donut heating coil if you want your vaping experience to be even better. It's a nice thing to have in mind for all perfectionists who want their vapes to be nothing short of outstanding.
Who should buy Yocan Evolve Plus XL?
All customers who want an affordable vaporizer that can deliver outstanding performance and top-notch flavor should seriously consider getting this vaporizer. With great value, the latest cutting-edge features, and convenient design, Yocan Evolve Plus XL is one of the best budget-friendly vaporizers that you can get at this point.
Who Shouldn't Buy Yocan Evolve Plus XL?
Experienced customers who want advanced features and a 100% compact design will not be satisfied with this product. Sure, Yocan Evolve Plus XL is built with compactness in mind, but the truth is, it's bigger than many similar vape pens and it won't fit every pocket. This will certainly be a problem for frequent travelers.
Another thing that may pose a problem is that the vaporizer has no temperature flexibility at all. While the heat is automatically regulated and the default temperature is tweaked accordingly, some people like to adjust the temperature levels on their own. In that case, they should seriously consider whether Yocan Evolve Plus XL is the product they should pursue.
Pros
Yocan Evolve Plus XL is a budget-friendly solutions on the market.
It's a product that comes with exceptional value.
The Quad Quartz Coil technology allows you to make truly gigantic clouds.
The vaporizer is very easy to use and it comes with no learning curve at all.
It has outstanding durability.
Cons
The product is not compact enough.
The loading can be time-consuming.
It has no temperature flexibility at all.
Having to change atomizers from time to time can put some people off.
In Conclusion
Is Yocan Evolve Plus XL a worthy purchase? Absolutely! Not only did Yocan manage to completely rework the Evolve Plus vaporizer, but it also created a brand new product.
Everyone who is looking for an affordable budget-friendly vaporizer should certainly consider getting this product. It's an investment that will pay off in the long run.