KandyPens is one of the strongest brands in the vaping industry and with good reason.
Their Galaxy wax pen is one of the best vaporizers ever made and it achieved tremendous market success. But instead of reusing the same concept for their future products, they wanted to push the limits further.
Step by step, they kept growing, and eventually, they reached the pinnacle. That pinnacle is KandyPens Gravity.
Released in 2016, KandyPens Gravity received many awards and was recognized as one of the best vaping devices of the year.
In the lines below I'll cover everything you need to know about the Gravity, so by the time you finish reading you'll have a pretty good overview of whether this product is for you.
Let's get started!
Technical specifications
| | |
| --- | --- |
| Chamber capacity: | 0.5 g |
| Charging time: | 2 hours |
| Battery capacity: | 650 mAh |
| Battery voltage: | 110 V |
| Heating type: | Convection |
| Heat-up time: | Five seconds |
| Temperature range: | 300°F – 430°F (149°C – 220°C) |
| Width: | 0.98" (2.5 cm) |
| Height: | 3.50" (8.9 cm) |
| Weight: | 180 g |
Unboxing KandyPens Gravity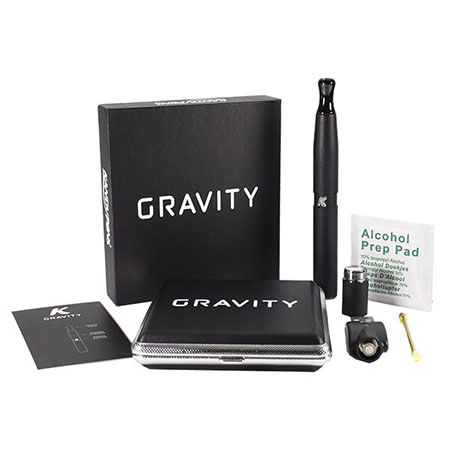 Here's what you will get upon unboxing KandyPens Gravity:
A battery
One storage case
One ceramic disk atomizer and one dual quartz rod atomizer
A battery charger
A dab tool
One square case
The instruction card
Two alcohol wipes
The KandyPens Gravity vaporizer itself
You won't need to buy any additional accessories to make your vaping unit fully operational, and that's a plus already.
Design and features
The basic design of this product is very simple.
What we have here is a compact unit that you can control with a single button. From a visual perspective, it looks like a very sleek electronic cigarette, which will appeal to many consumers.
Overall, the build quality is really good and, if used properly, KandyPens Gravity should serve you well for many years to come.
Portability
The unit is very compact and you can easily carry it around as you go. You won't attract too much attention while taking a draw either as the design is discreet.
Power supply
KandyPens Gravity comes equipped with two different atomizers – a coil-less atomizer and a double quartz coil atomizer.
If you use the coil-less atomizer, the battery should last you for about 100 draws. If you stick to double coil, you can expect around 75 pulls. These numbers are really good with both atomizers, especially for a device coming from this price range.
Temperature regulators
KandyPens Gravity comes with four different temperature settings and they are pink (300°F), red (350°F), green (400°F), and blue (430°F). All you really need to do is choose your optimal temperature level and wait for the chamber to heat up before you can start vaping.
Ideally, you should stick to the first two settings if you want to maximize the Gravity's performance.
Vapor quality
The device can produce a truly outstanding vapor. It's very similar to what you will find in KandyPens Galaxy, and it's superb.
You can use any atomizer and you won't see any difference in flavor.
My take is that you'll get the best results if you use the lowest temperature settings, but by all means explore all options to see what works best for you.
Ease of use
KandyPens Gravity is extremely easy to use and it requires no previous experience with wax pens.
The basic mechanism is very simple. The first thing you need to do is fill the atomizer of your choice with herbs, attach the battery to it, and connect the mouthpiece.
Next, press the button five times repeatedly to turn on the device. Similarly, to cycle through the four different temperature settings, you need to press the button three times.
Once you've chosen the temperature, wait for the unit to heat up and you're all set! If you want to turn off the device, you need to press the button five times repeatedly again.
I generally recommend using the double coil atomizer with the low-temperature settings and the coil-less atomizer with high settings, but once again, the choice is yours.
Pros
The product has an outstanding price-performance ratio.
It's very easy to use.
The vapor quality is excellent.
The unit comes with two highly functional atomizers.
The battery life is optimal.
Cons
The product is not too attractive (from a visual standpoint).
It requires priming before use.
The LEDs are a bit too bright for my taste.
In conclusion
KandyPens Gravity is absolutely worth every penny. Moreover, it's a vaporizer that can satisfy both newcomers and experienced dabbers alike. Is it perfect? No, it has a few downsides. But do the benefits outweigh the downsides? Oh yes, absolutely.
If you want an affordable and discreet vaping that will provide a truly outstanding vapor, this is the device for you.