In many cases, the biggest strength of a product lies in its convenience. Magic Flight Muad Dib is a perfect example of that.
While some vaping units are unnecessarily complex and consume too much space, that is not the case with the Magic Flight Muad Dib. With this concentrate box, you're getting a highly functional product that can perform marvelously. And the best thing is – it comes with an affordable price tag.
Is it a product for everyone? Certainly not. But, is it a product that provides good value for the given cost? Absolutely! This review will hopefully give you enough information so that you can determine whether this product is the right fit for your type of personally, and whether you shoud buy it.
Let's get started!
Company overview
Magic Flight is not a new name in the industry. Although their products are not as popular as the ones coming from more notable brands (like Yocan or Arizer), they still managed to set the standards in uniqueness and quality. The Launch Box was a perfect example of high-quality vaporizer with a rather unconventional design. With Muad Dib, they are hoping to raise that bar even more.
The company is based in San Diego and all of their products are made in the United States.
Unboxing the Magic Flight Muad Dib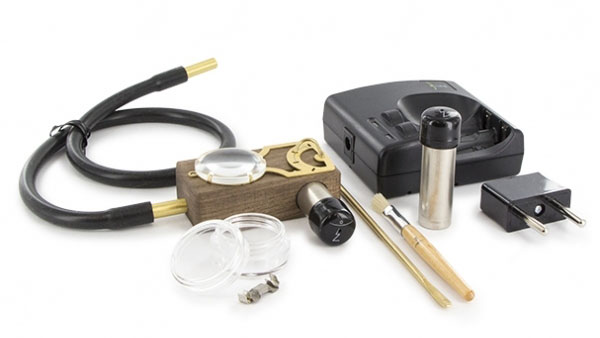 Here's what you will get upon unboxing Magic Flight Muad Dib:
One cleaning brush
One cloth carrying bag
A travel tin
A battery charger
Two rechargeable NiMH glyph batteries with protective caps
One draw whip
The user manual
The Magic Flight Muad Dib
In case you ever need a replacement for any of these accessories, you can get them easily from the company website or here.
They have one of the most customer-friendly warranty policies that I have ever seen. On top of that, you are actually getting a lifetime warranty.
Technical specifications
| | |
| --- | --- |
| Compatibility: | Solid concentrate |
| Delivery Method: | Whip |
| Charging Time: | 3 hours |
| Battery Type: | AA NiMH |
| Battery Capacity: | 2000 mAh |
| Heating Type: | Conduction |
| Heat-up Time: | 3 seconds |
| Width: | 1.29"(3.3 cm) |
| Height: | 2.48"(6.3 cm) |
| Weight: | 85 g |
| Price: | Get it for $119 at Bloomgroove |
Design and features
As I've mentioned above, Magic Flight Muad Dub has quite an unconventional design and this is the biggest trademark of the product. It looks quite similar to its predecessor (Magic Flight Launch Box), but it's still unique.
Magic Flight Muad Dib is mostly made out of wood, but we can see some other elements as well. There is a metal bucket right inside the heating chamber, perfectly optimized to allow smooth vaporization of any solid concentrate.
The best thing is that the unit doesn't take up a lot of space and it's very portable, meaning that you can carry it around as you go.
Power supply
Magic Flight Muad Dib comes prepacked with two 2000 mAh external batteries. It's quite a decent capacity, and you can replace the batteries whenever you like.
Battery life is also quite good, and once the unit is fully charged, it may last for a week before you need to recharge it.
On the other hand, the charging time could've been better and many people don't want to wait for three hours before they can vape again.
Portability
Magic Flight Muad Dib is one of the most portable vaping units that you can find today. It slips easily into any pocket or backpack and you can carry it around anywhere you go.
On top of that, unlike many portable vaporizers, this one comes with outstanding durability. This is certainly great for people who want to have their vaping devices with them while traveling.
Vapor quality
If vapor quality is your main concern, you'll be happy to know that Magic Flight Muad Dib produces a truly outstanding vapor. The flavor is strong, persistent, and you'll see no variations in quality no matter how long your vaping sessions are. Your concentrates will always be completely liquified and they will be turned into a smooth vapor that is quite tough to replicate.
So, if stellar performance is your main kick, this is the product for you.
Ease of use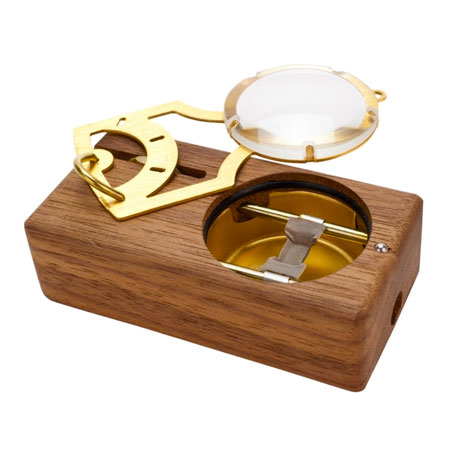 While the flavor may suit everyone, sadly, the learning curve will not. Many newcomers will struggle while learning the basics of Magic Flight Muad Dib and this is one of the biggest downsides of the product overall.
The first thing you need to do is slide back the lid and place your concentrates onto the trench.
Now close the lid and insert the battery into the aperture to kick-start the heating rod. Soon enough, the orange LED light will turn on. Three seconds after that, you will be ready to vape.
Though there seem to be only a few steps for using Muad Dib, somehow it's just not the easiest device to handle.
I generally recommend going for slower pulls, but the choice is entirely up to you.
Cleaning and maintenance
While the ease of use is far from optimal, at least the cleaning and maintenance part are pretty straightforward.
Ideally, you should clean the device after every vaping session. You only need two things – a cotton swab and isopropyl alcohol. The whole process doesn't last for more than 30 minutes, even less when you've done it a few times.
Additional accessories
Muad Dib is compatible with all accessories made by Magic Flight. It's even compatible with the highly portable Power Adapter 2.0 as well as the iconic Water Piece Whip.
If you ever need to replace one of the default accessories, all you need to do is contact the company directly. You're getting a lifetime warranty, and if you have issues with any of your accessories, you should absolutely use that advantage.
Who should buy Magic Flight Muad Dib?
Anyone who wants a high-quality portable vaporizer should absolutely take this product into consideration. It's also an ideal solution for anyone who is after outstanding vapor and truly unique design. Lastly, if you want to use the device without having to charge it too often, this will definitely be a product for you.
Who shouldn't buy Magic Flight Muad Dib?
If you're a newcomer and you've never used any vaping units before, this will be a serious problem.
You may need some time before you learn how to use the device. On top of that, you need to ground the herbs properly if you want to reap all the benefits, which can be tricky.
Also, if you like the option of manually tweaking the temperature according to your preferences, this is something that you will not get with Magic Flight Muad Dib.
Pros
The product has an outstanding price-performance ratio
The vapor quality is outstanding
Magic Flight Muad Dib has one of the most unique designs on the vaping scene
It's portable and very easy to carry
You're getting a lifetime warranty and an amazing customer support
Cons
The device has quite a steep learning curve and it's not user-friendly
You need to ground the herbs carefully before you can start using the vaporizer
The temperature can't be changed manually
In conclusion
Despite some obvious downsides, Magic Flight Muad Dib is undoubtedly an outstanding product and I highly recommend it to anyone looking for a device that can produce vapor of superb quality.
It's also a great choice for anyone who wants a portable solution and a somewhat distinct design.
Magic Flight may not have a lot of products in their assortment yet, but both of their vaporizers possess extraordinary quality, and the way they treat their customers deserves huge respect.
Magic Flight Muad Dib is worth every penny, and other than the product itself, you will also get the chance to experience what one of the biggest innovators in the industry is capable of. That's not a small feat.