We've been on the lookout for a simple but awesome appliance for cannabis flower decarboxylation. And today we'll find out whether the NOVA Decarboxylator & Infuser delivers.
In recent years, marijuana users (both lovers and patients) have been looking for alternatives to traditional methods of consumption.
We can safely say that smoking joints is almost a 'retro' thing. Some of the most popular marijuana consumption methods today are edibles, topicals, vaporizers, and capsules.
Cannabis lotions, potions, and edibles
If you don't trust unknown cannabis brands or you like to experiment, you can start making your own delicacies or remedies in the comfort of your own home.
There are many, many cannabis recipes online. And everything looks so easy to do and fun. But not all is as it seems.
Before you sprinkle some ganja flowers on your pizza or apply cannabis-infused oil to pain points, you need to properly prepare it – decarboxylate and infuse.
The decarboxylation process can be tedious and complex.
Most of the common ways to decarb cannabis at home are using an oven or by boiling. You need to preheat the oven to about 220 degrees Fahrenheit (105 C), put the flowers on a baking sheet and bake for about 45 minutes.
But what if your oven distributes heat unevenly and you need 60 or more minutes? What if the flowers have a higher percentage of moisture? What if some of the flowers are significantly smaller than others? That's a recipe for disaster.
You would eventually, through trial and error, come up with a recipe that works, but why let all that precious ganja go to waste?
That's where the appliances like NOVA Decarboxylator and Infuser come into play.
NOVA unboxing
The NOVA Decarboxylator package includes:
Decarboxylator
Container
Instructions Manual
The decarboxylator looks almost like a thermos. It's small and compact and comes in one color: purple.
Due to its size, it can fit in one hand and it's easy to store when not in use. It holds up to one ounce of flowers or 5 ounces of kief. There is no bottom limit on the amount you can use.
Here are the exact measurements:
| | |
| --- | --- |
| Height | 190 mm |
| Width | 100 mm |
| Depth | 100 mm |
| Weight | 1000 g |
What it does
The NOVA decarbs and infuses cannabis flowers, kief or concentrates as easy as pie.
It's equipped with dual sensors and a decarb algorithm that keep the temperature steady throughout the entire process.
This lab-tested and proved process enables you to get the most out of cannabis or, in other words, no precious CBD or THC will be wasted.
Cannabis needs to be heat activated in order to transform CBD-A and THC-A (acids) into CBD and THC, which is the effect we're aiming for.
How it works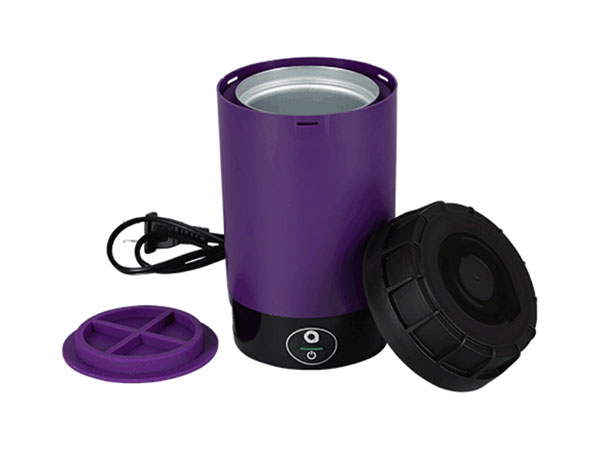 The NOVA really is as simple to use as advertised.
It has a power button, and that's pretty much it. There are no manual settings, so you just need to put your stuff in.
We've tested the device by using flowers. If you want to decarb kief or concentrates, you should grab a piece of baking paper, too.
Here are the steps:
Place your flowers inside the silver container
Put the container back into the device
Cover with the purple lid
Put the black lid back on tightly
Push the button
If you followed steps 1–4, the light will be green, which means it's ready for action. Push it and the process will begin (the light will turn red once you press it).
Now you are free to enjoy a cup of coffee, watch a movie or take a nap, since it takes between an hour and a half and two hours to complete the cycle.
Once we got our decarbed flowers, we moved on to testing the infusion. When we purchased the NOVA Decarboxylator, we also bought the silicone infusion sleeve (though you can use glass as well). The process, again, is very simple.
Choose the oil of preference (we used olive oil)
Place the oil in the silicone (or glass) container
Add the decarbed flowers (or other material)
Cover with the purple lid
Put the black lid back on
Push the button
Now it's time for another break. Once the process is finished, the light will go red again and you'll have your ganja infused oil.
You may already know this, but you can use the oil in your recipes, or you can add it to creams and lotions. Either way, the effect it has is good.
The result
All the flowers went from being predominately green to brownish/orangish. They looked really good and evenly processed.
There was no strong odor filling up the kitchen and there was absolutely no mess. Other than looking good, we've tried them out and it was incredible!
Our infused oil found its way to a sweet and delicious cake. So, we did what we needed to do, we summoned our friends to carry out their jury duty. The decision was unanimous: we're making it again!
Pros and cons
Pros
No smell
Simple to use
Decarbs and infuses
Mess-free
Cons
Pricey
You have to buy the silicone sleeve separately
Conclusion
The NOVA Decarboxylator and Infuser is just one of the multitude of appliances out there that ease the decarboxylation process.
The founder and president of Ardent (manufacturer of NOVA), Shanel A. Lindsay, wanted to find a way for any person to have homemade, properly decarbed cannabis.
Although the price seems high (it retails at $210), it's worth every penny. At the end of the day, it will save you time and money.
Other than that, the fact that there is no smell is a huge plus: not everyone needs to know what's cooking in your kitchen.
One piece of advice: If you've decided to get yourself a NOVA, add a couple of bucks and get the silicone sleeve as well. It's easy to maintain and you won't need to use baking paper or glass.
Also, please share your recipes in the comments!