Ever since Source introduced the fourth generation of their vaporizers, I've been checking them out. Especially the Signature Kit with tempting 8 atomizers. But this baby was a bit pricey for me, so I left my wishes in the drooling stage.
However, every once in a while I found myself reading the Source Orb 4 reviews. Guilty as charged, I'm a weed nerd.
Still not looking to buy, I was tickled by the range of opinions about this vaporizer. Some of the reviewers claimed that they had some of the best globs with this pup, while others reported it failed them.
My curiosity at its peak, I finally decided to give it a go. Heck, the company even offered a lifetime warranty.
So, without any intention to sell you words like "best ever" or "the worst one out there", here's my story about the Source Orb 4. Hope it helps.
What's inside the box?
I ordered my Signature Kit online, and it came packed in a larger envelope. Inside was a metal case, perhaps a bit too large for my taste. I'll need a backpack for this.
But, once I opened it, I had something to see: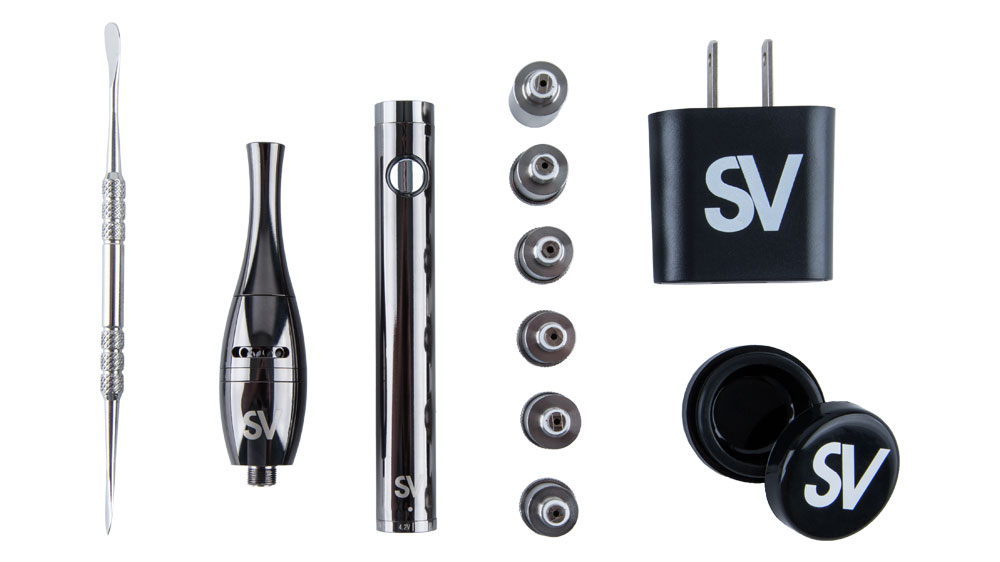 One orb 4 attachment
One source volt max temperature control mod
One quartz single coil atomizer
One quartz double coil atomizer
One white ceramic double coil atomizer
One black ceramic double coil atomizer
One terra 2 ceramic coil-less atomizer
One terra 2 quartz coil-less atomizer
One source nail titanium coil-less atomizer
One source nail ceramic coil-less atomizer
One dab tool
One silicone wax container (use it only for short-term storage)
One cleaning cloth
One charger
One wall adapter
One black metal carrying case
The thought of this package size and the inconvenience of carrying it was quickly out of my head.
How to use the Source Orb 4 Vaporizer?
I can imagine the Signature Kit being a bit overwhelming for beginners, especially when it comes to assembling all the different parts together and handling the mod.
I also know that connoisseurs could do it with their eyes closed.
As for putting the pieces together, there is really not much to it and all you have to do is the following:
Insert a 18650 removable battery into the mod
Fasten the Source Orb attachment to the base
Pull the top part off to insert your atomizer (screw it clockwise)
Put the wax in the atomizer by using the dab tool provided
Close the upper lid
Press the fire button five times to activate the mod
Adjust your preferred settings
Adjust the airflow by rotating the middle ring on the Source Orb
Enjoy vaping!
The Source Orb 4 uses magnetic locking, which makes handling the parts pretty easy. Once you get used to it, refilling and cleaning will become a matter of a few clicks
As for the mod itself, it does require a little bit of learning, as it offers an impressive amount of customization possibilities (I'll cover this in detail later on). Luckily, you have the help of the manual, SOURCEvipes website, and a tone of Youtube tutorials. It shouldn't take long before you find your sweet vaping spot.
I was especially worried about the mod because I've read that guys reported issues with this part. Mine is working perfectly for four months now, despite more than regular usage.
As for the battery, it also performed as promised: charging to its full capacity up to 3 hours, and lasting for about two days.
I do have a spare one with me when I go away on a trip and I recommend that you purchase one too. It will save you the hassle.
All in all, so far I didn't have to use the lifetime warranty and I'm even starting to feel that some negative comments about Source Orb 4 Signature Kit have nothing to do with the dab pen itself.
Emphasizing the customization
Now let's dive into the star of the show – customization, or how Source Orb 4 enables you to prioritize between vapor production, flavor, draw resistance, and more.
It does so in three ways:
By enabling you to control the airflow
The middle ring on the Source Orb attachment is equipped with 5 air holes on both sides that can be opened or closed by rotating. This allows you to regulate the airflow and draw resistance, by choosing the exact amount of air you want mixing with your vapor.
I like to keep two holes open, but I do not recommend you follow in my footsteps. Instead, have some fun spinning the ring and finding your own preference.
By enabling you to control the temperature and wattage
As many of you know, the temperature and wattage control is vital when it comes to getting the best puff from your concentrate.
In general, low temperature and wattage are ideal for intense flavor, while higher temperatures can help you chase some thicker clouds.
The Signature Kit offers an astonishing temperature range (200°F – 700°F) and a likewise wattage scale that goes from 5 to 60 Watts.
I like to prioritize using wattage control, as I found that coil atomizers perform their best on a scale from 5 to 12 Watts, while the coil-less ones work great with a wattage that ranges from 15-33 Watts.
Again, that could just be my taste, and you should really discover your own.
By letting you choose between 8 atomizers (two of which are designed especially for this kit)
Now, the story about these atomizers could go on forever. And it would probably have to have a diary structure in order to include all the fine details.
In short, each one will give you a unique dabbing experience, especially when combined with various temperature and wattage settings.
I myself prefer quartz; the ceramics leaves me with an odd taste. But, each brings something of their own to the table.
Be sure to check the manual, never fill the chamber to its fullest, and simply enjoy some good old experimenting.
Source Orb 4 design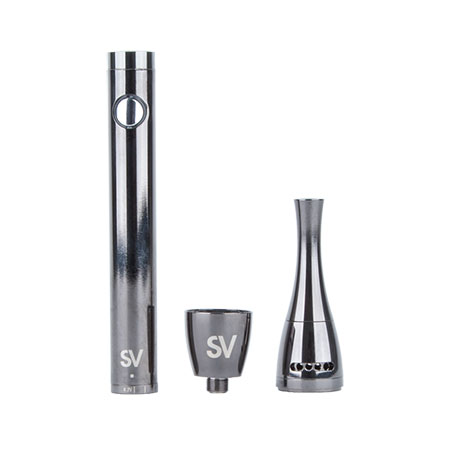 I got the black one, as I enjoy the elegant feel of that color. You can choose between black, chrome, and gold design.
The teardrop shape is pretty unique and simplistic, and it feels good in the palm of your hand.
But perhaps the most important thing is that Source Orb 4 is made entirely from certified materials, and there's no plastic or glue whatsoever. You can be sure that there won't be any undesirable and harmful toxins in your vapor.
As for the magnetic locking, I did experience some accidental separation in my pocket, but truth be told, I did that with my previous pen as well.
Then there is an issue with its size. Source Orb 4 is a bit bulkier in design, and I was worried it might not be as discreet as it should be. However, once inside your palm, it really looks like an e-cig, allowing you to stay "invisible".
All in all, I really didn't need that backpack I thought I would use for this pen.
Pros and cons of using Source Orb 4
Now that I've said quite a few things about this vaporizer, it's time to sum things up. Here are my pros & cons:
Pros
Numerous customization possibilities
Certified materials
Looks like an e-cig
Good battery life
Lifetime warranty
Cons
Learning curve that might be overwhelming for beginners
Pricey
Final verdict
To conclude, I'm glad the opposing views about this vaporizer intrigued me. It's been four months now, and I still feel there's room for discovering new possibilities.
Now, I'm not a newbie in the world of dabbing, and the learning curve didn't feel that difficult to me. I suppose I would recommend the Source Orb 4 to all of you who have been dabbing for a while now and are ready to do some serious exploring.